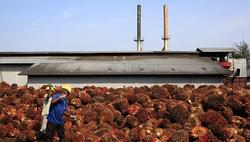 Noble Group's plantation division owns PT Henrison Intl Persada, which has nearly 23,000 hectares of land in Indonesia's Papua province.
Reuters | 12 May 2015
China's COFCO, CIC to set up venture to run agricultural businesses
China's largest grain trader COFCO is setting up a venture with sovereign wealth fund China Investment Corp (CIC) to control COFCO's investments in Dutch trader Nidera and Noble Group Ltd's agribusiness.
The venture could increase CIC's exposure to the agricultural sector, where the $653-billion fund has said it was eyeing more investments to help China get a bigger foothold in the food industry.
COFCO will control 80 percent of the venture -- COFCO International Holdings -- and CIC will own the remaining 20 percent, a COFCO spokesperson said on Tuesday.
Noble, one of Asia's biggest commodities trading firms, has been under scrutiny this year for its accounting methods after previously unknown Iceberg Research alleged the company had inflated asset values by billions of dollars. Noble has staunchly defended itself against the accusations.
COFCO owns 51 percent of Noble's agribusiness and also 51 percent of Nidera.
CIC owns 9.4 percent of Noble, after selling the equivalent of 4.5 percent of the commodity trader in September last year.
It was not clear if the new joint venture would affect the operations of Nidera or Noble's agribusiness.
But a consortium led by China-focused private equity firm Hopu, which had joined COFCO as a minority investor in its purchase of Noble's agribusiness, will now be a unit of the new joint venture, the source said.
Hopu, which is backed by Singapore state investor Temasek Holdings, is run by politically connected businessman and ex-Goldman Sachs banker Fang Fenglei.
Noble declined to comment and Nidera was not immediately available for a comment.