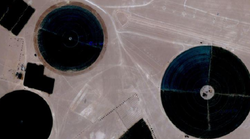 Satellite image of farms in southern Oman
Trade Arabia | 9 February 2015
Qatar's Hassad buys into Oman poultry project
Qatar-based Hassad Food, a premier investor in the food and agriculture sectors, has acquired a significant minority equity interest in A'Saffa, the largest local poultry project in Oman.
The transaction was signed in Muscat today (February 9) by Nasser Al Hajri, chairman of Hassad Food and Mohamed bin Obaid Al Mazrouei, chairman, Arab Authority For Agricultural Investment & Development.
A'Saffa Foods (formerly A'Saffa Poultry Farms) was established in 2001 and is the largest integrated poultry project in the Sultanate of Oman over a 40 sq km farm area is situated in Thumrit, Southern Oman. The state-of-the-art project facilities produces high quality fresh and frozen poultry meat products and its 100 per cent owned subsidiary produces value added processed meat products, a statement said.
"We are very excited about this acquisition which is a strong testament that Hassad Food is on the right track towards achieving its vision in becoming a leading global provider of high quality food products," said Al Hajri.
"Hassad's mission is to invest in efficient, profitable, growth-oriented global brands, contributing to the welfare of Qatar and the region by providing high quality products while using the latest technology in harmony with the environment and adhering to the highest standards of corporate social responsibility.
"I am confident that this partnership is in line with what we are trying to achieve in supporting the economic development and integration with the GCC market," he added.
A'Saffa chickens are fed with 100 per cent natural feed, produced in a highly equipped feed mill and slaughtered according to Islamic law (Shariaa), according to the statement.
The company plans to expand its existing poultry operations and diversify into other parts of the value chain that complements its business over the next three to five years, the statement said.
"A'Saffa Foods has managed to establish its presence regionally and now it has become amongst the top respected food companies in the GCC," said Saleh Mohammed Al Shanfari, chairman A'Saffa Foods.
"To have a strong partner shareholder on board like Hassad Food of Qatar, I am confident that the company will further progress its way to an even stronger presence globally which will impact positively on our shareholders of the company," he added