Macauhub | 27 January 2014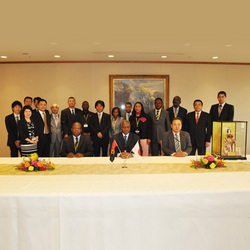 Marubeni representatives in Angola, 2012.
Japan's Marubeni Corp. to produce sugar cane in Angola
Japan's Marubeni Corp is preparing to launch a large sugar cane production project for industrial use this year in Angola, the group's representative in Angola said in Calueque, in Cunene province.
Cited by Angolan newspaper Jornal de Angola, Nakashima Nakata said that the group planned to plant sugar cane in an area of 75,000 hectares and that the project would also include a factory to transform the sugar cane into sugar and ethanol.
Without giving details of the investment in the project, Nakata also said that initially production would total 15 million tons of sugar cane, which would be processed to make 315,000 tons of sugar and 30 million litres of ethanol.
During the presentation of the project to local the authorities, Nakata noted that after several years of producing no sugar cane due to the civil war, this project could replace the sugar that is imported to Angola every year.
The Japanese group's representative in Angola also said he was working with the Ministry for Industry on a variety of projects due to be launched in several provinces.