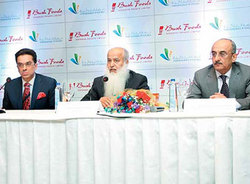 The purchase is part of a broad strategy to control food supplies, including farmland purchases in countries like Turkey.
Arabian Business
|
Wednesday, 3 April 2013
Qatar's Hassad buys stake in Indian rice firm
By Andy Sambidge
Hassad Food Co, the agricultural investment arm of Qatar's sovereign wealth fund, has bought a majority stake in an Indian basmati rice company for more than $100m, it was reported on Wednesday.
Hindu Business Line said Hassad Food had bought the stake in Bush Foods Overseas Ltd which sells basmati rice under the 'Neesa' brand.
"This is a strategic partnership with Hassad Food which is part of Qatar's sovereign fund," Bush Foods Managing Director and CEO Virkaran Awasty was quoted as saying.
"Hassad Food has picked up more than 51 percent stake in our company. They have invested more than $100m in this transaction," he told the paper.
Hassad Food chairman Nasser Al Hajri would be chairman of Bush Foods, while Awasty would continue to be MD and CEO of the company, the paper reported
Awasty added: "The funds invested by the Hassad Food would be utilised for further growth of the company that includes increasing the processing capacity by 25-50 percent and brand promotion."
Hassad Food's Al Hajri said he was "very excited about this acquisition".
Hassad Food said last year it may invest 500m euros ($625m) to increase food supplies for the desert emirate.
Qatar imports 90 percent of its food and established Hassad to secure supplies. The company announced plans to buy Turkish farmland in 2011.
--
Economic Times | 3 April 2013
Qatar's investor Hassad Food acquires majority equity interest in India's Bush Foods Overseas
KOLKATA - Hassad Food, Qatar's premier investor in the agriculture and livestock sectors has acquired a majorityequity interest in India-based Bush Foods Overseas. The transaction was concluded and signed in Doha on Wednesday by the chairman of Hassad Food, Nasser Al Hajri, and Virkaran Awasty, managing director of Bush Foods Overseas.
Bush Foods Overseas was founded in 1992 and has current turnover of in excess of $235 million. The company specializes in premium basmati rice and has diversified into value added processed foods such as RTE (ready to eat), spices and other ethnic range of international brands which are available in 60 countries worldwide.
Bush Foods' flagship brands Neesa, Himalayan Crown and Indian Star, are considered amongst the most trusted and reputed basmati rice brands globally for their consistent quality.
This milestone acquisition will position Hassad Food on the global business map as major provider in the basmati rice domain and will be considered another achievement for the Qatari company since its establishment in 2008.
Nasser Al Hajri, chairman of Hassad Food said: "We are very excited about this acquisition which is a strong testament that Hassad Food is on the right track towards achieving its vision in becoming a leading global provider of high quality food products."
"Hassad's mission is to own and develop efficient, profitable, growth-oriented global brands, contributing to the welfare of Qatar and other societies by providing high quality products while using the latest technology in harmony with the environment and adhering to the highest standards of corporate social responsibility. I am confident that the acquisition of Bush Food Overseas and its international brands is in line with what we are trying to achieve and will deliver what is expected from it," he added.
Bush Foods Overseas facilities are equipped with a $30 million, state-of-the-artrice mill with an annual capacity of 180000 MT of top quality premium Basmati.
Virkaran Awasty, MD, Bush Foods Overseas stated, "We are very happy with the deal. Bush Foods Overseas has worked hard to be a respected name in the basmati rice domain worldwide and now it has become amongst the first Indian food company to be acquired by a globallyreputed food company from Qatar like Hassad Food. I am confident that Hassad Food is the ideal long term majority partner that can take the company to an even higher level ".
Bush Foods caters to some of the finest quality names in the world like Westmill Foods (UK), Loblaw Group of Companies (Canada), Metro Super Markets (Canada) , Sobeys (Canada) , BJ's Club (USA), Sam's Clubs (USA), Wal-Mart (Canada, USA and UK), Biglots (USA), Riso Gallo(Italy), Union Trade(Italy), Albert Heijn Supermarkets(Holland), Carrefour (UAE, Kuwait, Bahrain), Leclerc ( Poland), Jumbo Super Market (Holland), Aljazeera (Bahrain), Jassim Al Wazzan (Kuwait), Al Maya Group (Dubai), AX Foods (Sweden), Migros ( Switzerland), Pic n Pay (S.Africa), Ali Bin Ali (Qatar) and major Indian supermarket chains, BhartiBSE -3.95 % Wal-Mart, Spencer's, Reliance, ABRL, Metro, Food World, Spar to name a few.
This major strategic financial transaction, which took few months to be completed, witnessed the engagement of QInvest and Ambit as financial advisors to Hassad Food and KPMG Corporate Finance, India as advisors to promoters of Bush Foods .