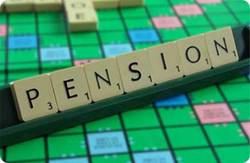 Few assets remain immune from whipsawing markets, prompting institutions to look at farmland
Reuters | Wed Jun 27, 2012
Big pension funds plough money into farmland
* Growing food needs fuel demand for farmland
* Pension funds seek diversifying assets
By Anjuli Davies
LONDON, June 27 (Reuters) - Some of the world's biggest pension funds said they have been ploughing money into farmland around the world as they seek to diversify portfolios and generate stable returns at a time of market volatility.
At an agriculture investment summit in London on Wednesday, leading U.S. and European pensions funds said few assets remained immune from whipsawing markets, prompting institutions to look at farmland.
"The crisis has accelerated our agriculture programme," said Jose Minaya, head of natural resources and infrastructure investments at TIAA-CREF, which manages about $500 billion for U.S. university professors and non-profit workers, including a significant investment in farmland.
"What we saw in 2008-2009 was that the (agriculture) portfolio performed extremely well, and liquidity for us increased ... The only thing that people had that was worth something was tangible assets - land," he added.
Farmland prices have rocketed to near or at record highs in several U.S. farm states. Research in the UK predicts British farmland will outperform gold, oil and residential real estate in London's most exclusive neighbourhoods.
Growing demand for protein in developing economies and the increasing use of land for biofuels are helping increase the need for agricultural products and drive investment in farmland.
The United Nations' food agency estimates that $80 billion a year is needed to develop infrastructure to feed a population projected at 9 billion people by 2050, up from 7 billion now.
In 2011 pension funds invested $5 billion to $15 billion globally in farmland, according to an estimate by Grain, a non-governmental organisation that promotes sustainable use of the world's resources. It predicted the figure would double by 2015.
Many investors prefer developed markets, sensitive to possible charges of "land grabs" in Sub-Saharan African states and other developing countries.
BIG PLAYERS
TIAA-CREF has invested around $2.5 billion in more than 400 properties totalling 600,000 acres of farmland in the United States, Australia, South America and Eastern Europe.
In May it also formed a $2 billion global farmland investing company, partnering with Canadian and European money managers to invest in farmland in the United States, Australia and Brazil.
AP2, one of the largest pension funds in northern Europe with about $32.1 billion under management, invested around $250 million in the fund on top of $50 million in another fund.
"We aren't looking for the highest return possible; we are looking for good exposure," Anders Stromblad, chief investment strategist at AP2, said.
Stromblad said he was targeting annual returns of 7 to 8 percent and likened farmland to investing in real estate, in which AP2 has around 5 percent of its assets.
"As well as trying to find ... one of the best office buildings on Madison Avenue, that's exactly what we want to find in the agriculture space as well ... the best land, the best soil in the world, the best located."
Stromblad told Reuters on the sidelines of the conference that AP2 had significantly increased its investment in farmland over the year to around 1 percent when fully invested.
Richard Moon, investment manager at Railpen, one of the UK's biggest pension funds which manages around 20 billion pounds ($31.1 billion) for the Railways Pension Scheme, said that whilst farmland should be considered, he did not yet consider it an asset class in its own right.
"On the face of it, it probably doesn't deserve its own allocation within a portfolio, but institutions will look at opportunistically allocating to it from real estate buckets or private equity buckets."
Railpen invests in farmland as part of its 25 percent allocation to alternatives, which include infrastructure, private equity, hedge funds and commodities.
In contrast to AP2, Moon said that he would look at less mature markets, favouring Australia, New Zealand and South America and targeting absolute returns of 10 to 18 percent.