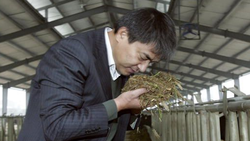 Liu Yonghao, Chairman and founder of the New Hope Group, at his company's dairy farm in Sichuan Province, southwest China. In November 2011, his company said it would launch an overseas fund with international investors, including Singapore's Temasek Holdings, to set up farms in the Middle East, South Africa and central Europe. (Photo: Life)
All About Feed | 23 January 2012
New Hope Group, China's biggest manufacturer of animal feed by sales and production, is to expand its business in emerging markets through a joint venture with Marubeni Corp, Japan's biggest grain trader, to tap into the region's rising demand for agricultural products.
The companies signed a letter of intent to expand in Africa, the Middle East, Eastern Europe and South America, Bloomberg cited Marubeni as saying in a statement.
Xiang Chuan, board secretary of the subsidiary, New Hope Liuhe Co, confirmed the cooperation when reached on Tuesday, without providing financial details.
New Hope Group has been expanding its overseas business in the face of fierce competition in the animal feed business in China, the company said in its latest annual report.
It plans to double its investment in overseas markets annually, according to a report on the company's website.
The company now has 16 feed factories overseas, and it plans to add four more annually. It did not provide a schedule for the opening, according to Tang Yong, a company director, in an interview posted on the company's website in December.
Each overseas factory will have a production capacity of between 100,000 and 200,000 tons, the report cited Tang as saying.
Overseas history
New Hope's overseas animal feeds business has long been based in Asia only. The company set up its first non-Chinese factory in Vietnam in 1999.
Since then, it has expanded into other Asian countries, including Cambodia, the Philippines and Bangladesh. Now it is looking to expand in other areas, such as Africa and the Middle East.
The company has completed the construction of an animal feed factory in Egypt, which will soon become operational, according to Tang. It will also begin work on a plant in Johannesburg, South Africa, according to his comments in the report.
According to analysts the company's total production capacity is around 3.8 million tons, including 2.3 million tons in China and 1.5 million tons overseas. With current planning overseas business will be one of the main drivers of the company's overall business expansion in the short term.