Tuoi Tre News | 26 December 2011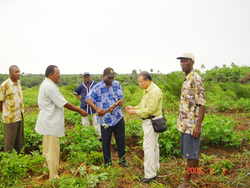 Professor Vo Tung Xuan in Sierra Leone
Some companies that have been doing business in Africa said this continent was a good destination for Vietnamese investors.
HCMC-based Long Van 28 Company is planning to seek funding from the Government to invest in some 200,000 hectares of rice in Sierra Leone. This firm used to cooperate with Vietnam-Africa Agro-aquacultural Development Company (VAADCO) in wet paddy
cultivation in several African countries.
"Based on the achievements of VAADCO in Sierra Leone, we believe investment in rice production there would bring profit to Long Van 28," said the company's director Trinh Vinh Binh.
Binh predicted farmland in Sierra Leone was enough to produce 5.4 million tons of rice a year and said that after supplying the domestic market, there would be over four million tons left for export.
According to Professor Vo Tong Xuan, director of VAADCO, Africa offers many opportunities for local enterprises to invest in the agricultural sector. "Many African countries are willing to pay high wages for Vietnamese agricultural experts and support Vietnamese businesses in investment activity," he said.
On December 29, VAADACO will send a team of experts to Nigeria to survey certain locations there for wet rice cultivation, Xuan said.
VAADACO has assigned its experts to produce five hectares of rice seeds by end-2012 to supply for 1,000 hectares of rice which the company will develop in 2013.
In addition to rice cultivation, African countries are calling for investment in aquaculture, which is also a lucrative sector for Vietnamese investors.
"The Sudanese embassy in Vietnam has contacted us for several times asking for help to seek Vietnamese enterprises willing to invest in aquaculture in Sudan," Xuan said. "Sudan currently offers incentives for investors committed to this sector."
Moreover, Xuan said irrigation was still underdeveloped in Africa, so this was also a good chance for local irrigation firms to do business there.
Meanwhile, Hoang Duc Nhuan, head of the Africa Division under the Ministry of Industry and Trade's Africa, Western and South Asia Markets Department, said Ivory Coast was seeking investment in cashew processing.
The country's annual output of raw cashew is some 400,000 tons, only 3% of it is processed cashew.
The Vietnam Cashew Association is talking with its members about the possibility of investing in African countries, especially Ivory Coast, said Dang Hoang Giang, general secretary of the association. Those African countries are Vietnam's main cashew exporters.
Giang, however, said that African governments had policy incentives for Vietnamese investors but insufficient infrastructure and financial systems were major hindrances to many, including those in the cashew industry.
Nhuan said Ivory Coast and Senegal had better infrastructure including seaports, airports and railways.