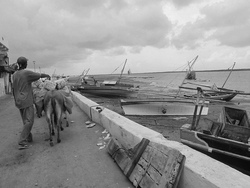 Lamu Port (Photo: Flowerbeetle via
Flickr
)
Nairobi Star | 8 June 2011

Maureen Mudi

Hundreds of Lamu farmers are up in arms against chiefs and district officers they claim collude with unscrupulous buyers to sell off their land.

They claimed swathes of Hindi and Mokowe area land has been bought by "outsiders" keen to cash in on the proposed Lamu Port.

Shungwaya Welfare Association vice chairman Mohammed Mbwana said a former chief had his property surveyed without his knowledge.

The Mokowe land owners fury came in the wake of assurances by Lands Minister James Orengo that land transactions will be suspended until sub-divisions and the handing out of title deeds is verified by the ministry.

Mbwana told Orengo to fulfill his promise that settlement schemes in Kiunga, Siyu, Ndau, Mangai and Faza will be demarcated in a transparent way to avoid corruption and land grab.

Yesterday Mbwana told chiefs and district officers as well as Ministry of Lands officers that they will not be "tolerate" new sub-divisions.

He said: "The selection of Mokowe as the county headquarters without our consent as leaders and stakeholders, has further compounded the situation, making leaders grab any land available."

A large number of peasant farmers in Lamu do not have title deeds. A majority only have allotment letters.

Former Mokowe chief Abdilatif Mohammed said surveyors went to his property, mapped it out, counted the trees and left. They informed him they had been instructed by the chief.

But Lamu DC Stephen Ikua denied the claims and said the mapping of parcels was carried out after consultations with the residents.

He said no government official was out to steal land, as claimed by the residents, and added that the physical planning office, had streamlined and mapped out areas where the headquarters for Mokowe will be built.

Ikua said: "Anyone who feels aggrieved should speak out, a proper plan has already been drawn with designated government offices that will be put up."

Farmers said outsiders have enlisted the services of the politicians and administrators to grab land and leave them as squatters.

The former chief said he had occupied the property since 1966 and had planted many trees and cash crops.