The Star Online | May 21, 2011
by Hanim Adnan
MONROVIA (LIBERIA): Plantation conglomerate Sime Darby Bhd is planning to invest US$3.1bil in its oil palm and rubber plantation ventures in Liberia over the next 15 years.
Chairman Tun Musa Hitam said its unit, Sime Darby Plantations Sdn Bhd, to date had invested RM50mil (US$17mil) in the West African country.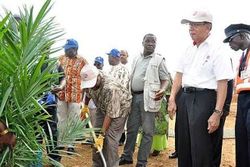 "We expect by 2015 some 10,800 tonnes of crude palm oil will be produced from our plantations in Liberia," Musa told Malaysian and Liberian reporters after the official launch of Sime Darby Plantations' first oil palm seedlings planting at its first estate Matambo Estate in Grand Cape Mount County witnessed by Liberia vice-president Joseph Boakai yesterday.
The milestone planting marks the world's largest listed plantation company's strategic expansion into the country in a big way.
With the commencement of planting activities, Sime Darby is on track to develop 120,000ha in the first 11 years of its concession agreement.
The concession area covers four counties Grand Cape Mount, Bomi, Bong and Gbarpolu which will be fully developed and managed by subsidiary Sime Darby Plantation (Liberia) Inc.
The entire concession area is expected to be fully planted by 2030.
It is said that the plantation landbank in Liberia would represent the third biggest for the Sime Darby group after its landbank in Malaysia and Indonesia.
Meanwhile, according to Boakai, the Liberian government viewed Sime Darby as a role corporate model given its focus on corporate social responsibility (CSR) and should be emulated by potential companies investing in the country.
He was positive on the Outgrowers Scheme whereby under the concession agreement Sime (Liberia) would be working with its smallholders to develop an additional 44,000ha plantation.
The scheme, which is similar to Malaysia's Felda programme, will help to reduce the high poverty and unemployment rates among the Liberian people, giving them the opportunity to own land and boost their income.
The plantations when fully operational would create about 35,000 jobs.
Sime (Liberia) will also help to improve the infrastructure and provide basic household amenities.
The centralised villages to house estate workers are being built. They will comprise workers' quarters, a clinic, a day care centre, a central store, a petty traders market, a mosque, a church, a community hall and a school/kindergarten.
The company has gone into CSR work in a big way by rebuilding or replacing 15 schools in various towns. It has also presented the communities with three school buses and furnished schools with new desks and chairs.
In addition, an ambulance has been purchased and sick wards are being built at the group hospital located within the plantation grounds. Sime Darby has also carried out employee-harmonisation exercises to foster closer working relationship with the local workers.
Musa pointed out that the group had been paying US$1.1mil per year in terms of tax rebate and expatriate living costs to the Liberian government as well as US$500,000 per month in terms of salary to its staff in Liberia.