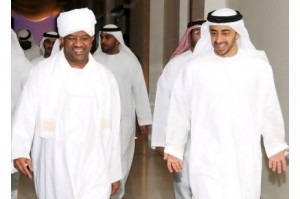 The National (UAE) | Jan 5, 2011
Kareem Shaheen
ABU DHABI // The Emirates has long expended significant diplomatic and humanitarian efforts in Sudan, cementing deep relations between the two countries.
Sheikh Abdullah bin Zayed, the Minister of Foreign Affairs, mediated between Sudan and Chad during a border dispute in 2009.
Between 2004 and 2008, trade between the UAE and Sudan increased by 153 per cent. Emirati investment in the country rose from $1.3bn at the end of 2007 to $2bn at the end of 2009. The majority of the UAE's investments are in services, industry and agriculture.
In 1981, the UAE signed an agreement with Sudan allowing Sudanese workers in the UAE.
In 2003, an agreement was signed between the two countries establishing a free-trade zone. Non-oil exports in 2009 to Sudan reached over $173m, while imports were worth $635m. Both imports and exports rose significantly between 2008 and 2009.
The majority of the UAE's non-oil imports from Sudan in 2009 included pearls, precious stones and metals.
In a report in March, the Ministry of Foreign Trade urged investors to contribute to Sudan's agricultural sector. Investment there is important for the UAE, which is trying to enhance its food security by buying and investing in agricultural land in Africa.
Sudan has vast tracts of fertile land, estimated at about 84 million hectares.
The UAE was one of the first countries to support the Arab Organisation for Agricultural Production, a consortium set up in Khartoum to encourage investment in the agricultural sector, which makes up 40 per cent of Sudan's GDP.
Growing agricultural investment in Sudan could help shore up the UAE's food security. In addition, Etisalat owns 82 per cent of Sudan's Canar Telecom.
Apart from the Merowe Dam, the UAE is financing other projects including a 250-megawatt dam and generating system, to be built in the north.
Abu Dhabi acquired 30,000 hectares of land last June through the ADFD to grow alfalfa, a crop used to feed cattle.
Aid to Sudan has also been significant. Between 1998 and early 2009, humanitarian aid by the Red Crescent to Sudan totalled Dh51.3 million.
The Red Crescent Authority (RCA) has dispatched plane loads of foodstuff and medicines to refugee camps in southern Sudan, setting up an "air bridge" for relief materials.
The UAE commissioned a mobile hospital that treated 6,500 patients in southern Sudan in 2009. Noor Dubai, a project to treat patients with visual disabilities, also opened a branch in Sudan.
The Abu Dhabi Fund for Development (ADFD) loaned Sudan US$367 million (Dh1.34 billion) to help build the Merowe Dam, which supplies power and helps with agricultural irrigation. The project was inaugurated by Sheikh Mansour bin Zayed, Deputy Prime Minister and Minister of Presidential Affairs, in 2009.
In 2008, the fund also loaned the Sudanese government $100m to help Sudan balance its budget, and in the same year it dispatched relief aid to Sudanese flood victims.
The RCA launched several development projects in Juba and Darfur to help displaced refugees.