Tempo | 25 November 2010
Jayapura: The Merauke Integrated Food and Energy Estate (MIFEE) Program, a project which the government claims will be able to bring economic and social welfare for the Papua people, was rejected by the local people themselves. The Papua People Solidarity organized a public lecture at Merauke Dormitory in Padang Bulan, Jayapura, rejecting MIFEE, after their demonstration plan was canceled by the local police.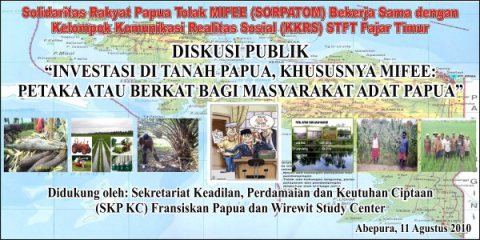 "The police said we didn't have the permit to demonstrate," said Selvius Bobii, Front Pepera Chief, yesterday. Yet, he said, the permit for the demonstration was sent to the Jayapura police last week. "The cancellation of the action means silencing democracy," he said.
Diana Gebze, the Papua People Solidarity to Reject MIFEE chairperson, said the MIFEE program was only a cover-up to clear the forests in Merauke. "Some sacred sites will be gone and land owners will be marginalized," Diana said.
Diana said MIFEE could open the chance for a large-scale private company to enter South Papua because the MIFEE program will open a large area to build an industrial center, controlled by shareholders.
Jayapura Police Chief Imam Setiawan confirmed the demonstration was canceled. "They didn't have the permit for the protest action," he said.
The MIFEE program, launched by Agriculture Minister Suswono in Merauke on August 11, will be carried out by a number of major companies. Merauke will become a corporate land, covering local farmers. The one million hectare land will be utilized in five clusters.
JERRY OMONA