Stock & Land | 24 November 2010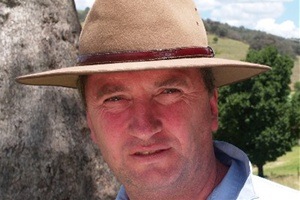 by COLIN BETTLES
THE FEDERAL Government has taken action to resolve lingering speculation and strengthen transparency surrounding the degree of foreign ownership in Australian agriculture.
The foreign ownership issue was thrust into the spotlight last week when QLD Senator Barnaby Joyce released figures showing there had been a substantial increase in foreign ownership of Australian agriculture assets, under the current government.
The Senator's figures showed foreign investment in Australia under the Coalition had averaged only $274 million per year but since Labor took over in 2007 it had averaged $2.7 billion per year.
Federal Agriculture Minister Joe Ludwig hit back at My Joyce's claims, saying it was wrong to suggest the Australian agriculture sector "as we currently know it" can exist without involvement in the global market.
He said Australia was known world-wide as an efficient producer of high-quality food, with "98 per cent of our fresh produce grown and supplied by our very own farmers".
Mr Ludwig and Assistant Treasurer Bill Shorten took the issue one step further this week, announcing they would develop an information gathering process to address emerging community concerns.
Their process will involve the Australian Bureau of Statistics and the Rural Industries Research and Development Corporation, with ABARE's Bureau of Rural Sciences (ABARE-BRS) undertaking the project.
Mr Shorten said the key question at hand was whether foreign ownership issues really existed and if a gap was actually developing between anxiety and reality.
"I am therefore asking the Australian Bureau of Statistics (ABS) to help give us a better picture of the foreign investment landscape," he said.
"This will specifically involve using data from the ABS Agricultural Census early next year to address outstanding questions about rural land and water ownership.
"This Census is sent to 171,000 agricultural businesses for the purposes of obtaining commodity, water and land use information at the small geographic area level.
"The ABS will also work with agricultural economists commissioned by the Government as they undertake an agribusiness surveying exercise."
Mr Ludwig has asked the RIRDC to consider commissioning a research project exploring the nature of foreign investment in Australian agriculture.
He said Australia's food supply was secure and built on a strong agriculture sector.
"Existing ABARE-BRS data shows that around 99 per cent of broad acre and dairy farms in Australia are family operated," he said.
"Of the 1pc of non-family farms, it found around 0.1pc are foreign owned.
"Foreign investors are interested in Australia's agriculture for a number of reasons, including that we are an efficient producer of high quality food.
"Foreign investment is vital for Australian farmers and regional communities because it supports local jobs and economic growth and prosperity."
The move was welcomed by new National Farmers' Federation (NFF) President Jock Laurie who described the investigation as being "long overdue".
"We need to recognise that the growth and expansion of Australian enterprises – including agriculture, which accounts for 12pc of GDP – greatly depends on foreign investment," he said.
"Equally, I think most people would be alarmed by the lack of transparency when it comes to who owns what, especially in agricultural production and the supply chains that dictate prices.
"Anecdotally, we're told that foreign interests, both government and privately owned, are targeting farm property in Australia to shore-up their own food security, so it's reasonable that Australians fully understand what, if any, impact such moves have on our farm sector and, ultimately, consumers.
"While foreign investment injects large amounts of capital into our production systems, it is prudent to put the microscope over Australia's foreign investment framework and its capacity to ensure that the interests of our farming communities, and the nation, are protected.
"Shedding light on the current level and involvement of foreign ownership and activity is long overdue.
"Naturally this includes examining agricultural land ownership, but must also extend to the means of production, such as supply chain factors in the processing sector and water entitlements, to give us all a better idea of the impact overseas investment is having."
The Greens also welcomed the audit, saying foreign ownership was an issue they had been campaigning on around the country.
Australian Greens Deputy Leader, Senator Christine Milne said in an era of climate change, water scarcity and increasing competition for land between farming, mining and urban sprawl, it was important to keep track of who owns what land in order to be confident about our food security.
"While this audit is a positive step, there is a lot more to food security than foreign ownership of land, and the Greens will continue to press for the development of a comprehensive strategy on food security and what is increasingly known as food sovereignty," the Senator said.
"We need to secure land and water for food production by improving sustainable production and we need to keep farmers on the land by making sure they can make a living in the face of Coles and Woolworths duopoly and cheap imports.
"Australians are increasingly aware of the food they buy.
"Concern about labelling and the growth of farmers' markets show that people like to know where the food they eat comes from and even talk to the people who grow it.
"Instead of playing catch-up with the Greens, Independents and Coalition on these issues, the government has to grapple with food security in a more comprehensive and integrated way if we are to make real progress."