Emirates 24/7 | 23 November 2010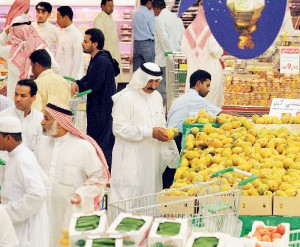 By Nadim Kawach
The UAE will remain vulnerable to high food prices given its low self-sufficiency rate in most farm products because of the poor agricultural potential in its arid desert land, according to a government study.
Its food imports surged by nearly 31.5 per cent to a record high of around Dh37.5 billion in 2009 from around Dh28.5 billion mainly because of higher prices and an increase in the country's population, showed the study by the Abu Dhabi Department of Economic Development (DED).
The study, presented by DED's researcher Hassan Mousa at a farming conference in Abu Dhabi on Monday, showed self-sufficiency in the UAE is low in most farm products except for fish which the country produces enough to meet a steady growth in domestic consumption.
"The rate of self-sufficiency in most agricultural products in the UAE has remained very low and this makes the country vulnerable to high food prices as a result of global market conditions," the study said.
"The UAE is urged to intensify efforts to tackle this problem and to expedite the strategic food stockpile product to face any unexpected food crisis that could send prices to new highs again after their surge in 2008."
The report showed the UAE's average food self-sufficiency rate stood at only around 36 per cent in 2009, with that in fruit dipping to near zero.
It stood at only 14 per cent in vegetable, 33 per cent in sugar, 40 per cent in cereal, 50 per cent in egg and cooking oil and 60 per cent in dairy products.
"The increase in prices of local farm products normally do not exceed five per cent while the imported products could surge by 100 per cent because they are usually influenced by currency changes, transport conditions, prices rises at the country of origin, suppliers behavior and other factors," the study said.
"There is a need for the UAE to expand its agricultural investment abroad and encourage farm investments by the private sector internally."
The study said inflate rates do not reflect the real change in farm prices in the UAE on the grounds the consumer price index covers all products.
"For example, vegetable prices grew by around 15 per cent between July 2009 and July 2010 but fruit prices were up by 12 per cent…the prices of some farm products were much lower while those of other products were much higher."
The report said the surge in food prices affects mostly low and medium income people who spend a large part of their wage on food and drinks. "This means spending by these people on other needs will be adversely affected."
The UAE had already invested in a massive farm project in Sudan while it is considering setting up a strategic food stockpile to offset supply shortages and sudden prices rises similar to those in 2008, when inflation in the country climbed to a record annual high of around 12.3 per cent.
According to officials, the area of the UAE farm project in Sudan is estimated at around 2,800 square km, scattered over Khartoum, Jazeera, Nile and other arable provinces in the East African Arab country
Figures by the Khartoum-based Arab Organization for Agricultural Development (AOAD) showed those farms exceed the UAE's total cultivated areas, estimated at around 3.1 per cent of the country's area of 81,000 square kilometers.
Sudanese officials said early this year the "Zayed Project" is among the largest farm ventures launched by the UAE in Sudan, with investment of $60 million.
The UAE, Saudi Arabia and other Gulf nations decided in 2008 to invest abroad in farming projects given their arid desert nature following a surge in global food prices that were among the main drivers of soaring inflation in the region.
The six members are among the largest food importers in the world, with their combined farm import bill exceeding $30 billion in 2009.
In a recent study, a key Saudi investment firm said the GCC's decision to invest in farming projects in Sudan and other countries constitutes a turnaround in their policies to achieve food self-sufficiency, describing it as unrealistic goal.
NCB Capital said the policy shift means the GCC nations, which control nearly 45 per cent of the world's proven oil wealth, will rely more on food imports but such projects will allow them to overcome natural constraints at home.
"The GCC nations are shifting their agricultural policies away from the nationalistic goal of food self-sufficiency towards more flexible and broad-based efforts to ensure food security. The previous policies were ultimately undermined by acute constraints posed by the natural environment and resources on domestic agriculture," NCB Capital said.
"This shift is translating into greater reliance on imports, outsourced agriculture and a greater focus on dry agriculture. Farming does not represent a significant component of the GCC economies as an exceptionally arid climate and low capital investments have limited its contribution to GDP and employment."