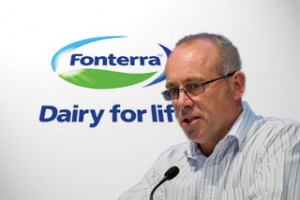 BusinessDay | 18 November 2010
by ANDREA FOX
New Zealand's need for overseas capital does not mean giving away control or ownership of farms, says Fonterra chairman Sir Henry van der Heyden.
He has told the farmer-owned cooperative's annual meeting in Hawera, Taranaki, today that he wanted as many farms as possible stay in local ownership, supplying milk to Fonterra.
"Global demand for food means everyone's eyeing up New Zealand as a production base. Keeping our farms and other productive resources in local hands is about protecting our competitive advantage in the world - we need to keep as much of the benefit as we can here in New Zealand," he said.
"It's been good to see the Government's response in this area. There will be a lot of people watching to see how it plays out in reality.
"Our ability to grow grass, turn it into milk then into the highest quality dairy products, more efficiently than anyone else, is our point of difference.. This is where we lead the world. We simply cannot afford to lose focus, lose our edge or the control of our productive resources - our land."
Sir Henry urged farmers to "stick together".
"Our co-op is one of the few New Zealand businesses that have the scale and strength to tap global trends and bring the benefits back home. That strength comes from sticking together."
Sustainability had to be a big priority for the company, he said.
"The world is changing. Consumers have a strong interest in how their food is produced, and the impacts on their environment, and how it contributes to our economy.
"As chairman of Fonterra, I will always represent the views of farmers. But we can't run roughshod over everyone else's views. Our farmers, Fonterra, our industry, customers, consumers, all need to have a voice.
"The challenge - not just for dairy farmers, but for the country - is to weigh up what's right and how we strike the right balance for New Zealand."
Sir Henry called for New Zealanders to get in behind Fonterra.
"We need the support of the public for dairying to be allowed to grow so we continue to do well. New Zealand needs us for the economy to prosper."