Inquirer | 12 November 2010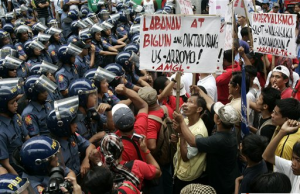 By Abigail Kwok
MANILA, Philippines—Agricultural and civil society groups on Friday called on the Aquino administration to review government agreements with foreign investors allowing a lease of agricultural lands for food and biofuel production.
This after a recent study by nongovernment organization Oxfam Philippines revealed that agricultural lands being leased for the production of agrofuel feedstock such as coconut, jathropa, and palm oil could affect rice production, posing problem to the country's food supply.
The groups composed of Trade Advocates Group (TAG), People's Campaign for Agrarian Reform Network, Inc., Rice Watch Action Network (R1), and Campaign for Land Use Policy (CLUP), raised alarm over the continuous leasing of agricultural lands to foreign investors.
Based on the Oxfam study, some 1.37 million hectares of agricultural land were leased to foreign investors during the presidency of now Pampanga Representative Gloria Macapagal-Arroyo.
The Philippine Agricultural Development and Commercial Corporation (PADCC), created during the Arroyo administration as the government's agribusiness marketing, investment promotion and project development arm, is currently negotiating for these agreements.
Foreign investors are allowed to lease lands for 50 years, renewable for 25 years, under the Foreign Investors Lease Act of 1993.
The Departments of Agriculture, Agrarian Reform and Environment have signed as Second Party to a Memorandum of Understanding with Fu Hua Corporation to lease 1 million hectares of land for agricultural production for 25 years, with the option to renew for another 25 years. The MOU was one of the 31 agreements forged during the RP-China talks in 2007.
The Philippine National Oil Company-Alternative Fuels Corporation (PNOC-AFC) has an overall land requirement of 192,500 hectares for jatropha cultivation. The company already entered into venture arrangements with the local government units in Zambales, Quezon, Palawan, Cebu, Bohol, Bukidnon, General Santos and even with the tribal groups in Lanao del Norte.
Edgardo Santoalla of Oxfam, who presented the research, said that in the short-term, leasing agricultural lands is beneficial to farmers as it will provide them with additional income.
"However, lands devoted for food production unfairly competing with the demand for biofuels poses a bigger concern for the entire nation's food security," Santoalla added.
According to the World Rice Production and Consumption Index of the United States Department of Agriculture, in the last two years, the Philippines has been producing only an average of 10.7 million metric tons of rice per year while rice consumption increased from 13.6 million metric tons in 2008 to 14 million MT in 2009.
The groups called on the government to develop, in consultation with stakeholders, a binding code of conduct for investors, and oblige them to lay out their obligations and commitments before the corresponding permits to operate are issued.
"We urge the government to develop and implement a comprehensive agricultural development framework and plan anchored on clear government policy on food security, food self-sufficiency, agricultural land use and investments, rural development, environment protection, farming technologies, and trade," said farmer leader Crispin Aguelo of CLUP.
The groups also asked the government to provide legal, negotiating and capability-building support to farmers entering into agricultural land investments and increase public investment as a strategy to empower farmers and promote food security.