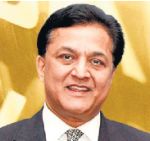 Hindu Business Line | 18 October 2010
Rana Kapoor
Global food security challenges are here to stay. The international food stock situation has worsened ever since the 2008 food crisis – when nearly 40 countries across the globe faced food riots. Even now, instances such as Russia's ban on wheat export, deadly food riots in Mozambique and building social unrest in various countries over rising food prices has left policy makers grappling for the right solution to address food security needs of the world.
The world population is expected to increase by 40 per cent by 2050, demanding an additional output of about one billion tonnes of cereals and 200 million tonnes of meat/annum by then. Consequently, future emphasis would be keenly focused on growing more food.
While options such as boosting yields through technology interventions and provision of better irrigation facilities do exist, a key solution theme that has garnered immense attention in the recent past has been investing in farmland in under-developed and developing countries – across regions such as Africa, Latin America and South-East Asia.
With a projected population of 1.6 billion by 2050, India may find it extremely difficult to depend on farm land within her boundaries for our future food security needs. It is thus imperative for policy makers of the country to seriously explore the option of transnational farm land opportunities and put in place a well structured policy to promote and facilitate the same so as to better national food security concerns of the future.
Current Scenario
According to the Food and Agriculture Organisation (FAO), 400 million ha of uncultivated arable land can be brought into cultivation in countries across sub-Saharan Africa (SSA), Latin America and South-East Asia. Demand for this farm land has been colossal in the recent past.
A latest World Bank report states that 45 million hectares (mha) of large scale farmland deals were announced in a two-year period between 2008 and 2009. This compared to an average annual expansion of global agricultural land of less than four mha before 2008. These investments are largely driven by governments, sovereign wealth funds and private investors of import dependent nations.
In addition to national concerns, investment houses across the globe have been considering acquisition of farmland as an increasingly attractive investment opportunity. Studies indicate that investments of over $60 billion have been committed for farmland deals by the financial investment firms alone.
India's private sector has been participating in this global phenomenon in a big way. In Africa alone for instance, it has been estimated that more than 80 companies, mainly processing and trading houses, have invested about $2.4 billion in acquiring farmlands to secure raw material supplies, scale and global presence. The choice of location is mainly driven by agro-climatic advantages of the host country, logistical convenience to the target markets, availability and cost of land and water, socio-political security, basic infrastructure facilities and investment incentives offered by the host country.
Transnational Farming
India has limited farmland resources vis-à-vis the population explosion in the country. In addition, the country is experiencing a 'Green Revolution Fatigue' manifested by stagnant yields and marginal or no response to farm inputs. In the last decade, national food grain production has been more or less stagnant while the population has increased by almost 90 million, thereby, increasing the country's dependence on food imports. Consequently the country is heavily dependent on imports of oilseeds and pulses – which is likely to extend into crops such as wheat in the near future. Continual increase in import bills amplify food sufficiency scare in the country, giving a sense of déjà vu of the pre-Green Revolution Era and the 'ship to mouth' existence of the 1960s.
Transnational farming has the potential to address these concerns. The production from these farmlands can supplement the food supplies of India while addressing local food security of the host countries. In addition, these investments have the potential to benefit host countries through transfer of investment and advanced technology into these developing economies.
Key Challenges
While a number of Indian entrepreneurs are exploring the opportunity of transnational farming, both as a vertical integration strategy as well as a new business opportunity, they face some critical challenges.
Lack of a structured Regulatory and Policy framework: India does not have a specialised regulatory and policy framework to support the nuances of overseas farmland acquisition and protect investors against associated risks.
Lack of financial and technical support: The Indian Government does not offer any fiscal incentives for such projects while the governments in other investing countries deploy development funds or sovereign wealth funds (SWFs) to provide financial assistance including subsidies, soft loans, guarantees and insurance. Government agencies such as export credit agencies in other countries provide technical and bureaucratic support to the investors.
Civil strife in host country: Recent surge in farmland investment popularly termed as 'neo-colonialism /land grabbing' has raised concerns about land expropriations -undermining the livelihood of local populations. Many countries have reported social uproar against such projects.
Action steps to facilitate
Given the limited scope for farmland expansion within India, policy makers of the nation need to evaluate the option of promoting cross border farmland cultivation and establish a robust framework to support such initiatives. Some key action steps in this direction include:
Develop a national policy on transnational Farming – supported by a structured legal and regulatory framework that enables investors to pursue farmland investments abroad.
Establishing inter-government agreements such as bilateral treaties and cooperation agreements with the potential host countries and route development aid and investment incentives through farmland deals
Providing greater level of facilitation, both in terms of substantive as well as procedural law for realisation of these projects and protection of investment
Devising specific import policies for produce from such lands by defining clear cut incentives such as duty-free access for such produce
Revisiting thresholds and restrictions on investment in foreign nations - taking into account factors such as cost of farm land and socio-political and regulatory environment of host countries.
Conclusion
To conclude, commercial farming across borders could be a key solution theme to address national food security concerns in the future.
While a structured policy framework on trans-national farming is urgently needed to improve public and private sector investment in commercial farming abroad, it is also critical for Indian investors to carefully scan the socio-political and economic condition of the host country and build in socially inclusive models of farming. Such models could include out-grower programs - where the foreign investor shares the advantages of modern technology and better market access with farms in the surrounding localities. This in turn will help build a symbiotic relationship with the local population in the host country based on transparency, broad based social acceptance, evidence based multi-stakeholder approach and a trust based commercial relationship.
(The writer is founder/Managing Director & CEO of YES Bank)