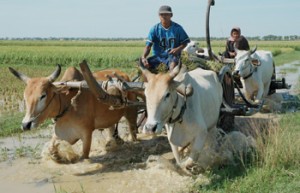 Phnom Penh Post | Monday, 11 October 2010
Catherine James and Sam Rith
Indian rice exporter Amira Group plans to invest up to US$40 million in Cambodia's rice sector, hailing it as the "future of rice in the world".
New Delhi-based Amira Group executive director Protik Guha said the company was looking to put between US$30 million and $40 million towards setting up a rice-processing plant in the Kingdom – its first outside India – and acquiring 25,000 hectares of agricultural land.
"Cambodia is the future of rice in the world," he said.
"It has abundant paddy in terms of land, and [the investment] makes sense with the duty concessions available for export," he said, noting Cambodia's recognition of the ASEAN free trade area and the ASEAN-Australia-New Zealand free trade agreement.
"We are talking to a couple of local partners, but we are very much at the drawing board stage," he said, and added that ideally the company would form a public-private partnership for its plans.
Amira Group has operated in India since 1915 and last year saw total revenue of US$240 million. The group has exported more than 70,000 tonnes of Basmati and 200,000 tonnes of long-grain rice to more than 40 countries worldwide, according to its website.
It is also one of only 250 companies admitted to the World Economic Forum's group of "Global Growth Companies", which identifies "dynamic high-growth companies with the potential to be tomorrow's industry leaders".
Protik Guha said expansion in India was limited because of the laws surrounding land ownership.
The company was also engaging governments in Sierra Leone and Angola regarding agricultural land purchases, he said.
He noted that despite Cambodia's rice-heavy farming sector, he felt that it lacked structured growth – something Amira would like to provide leadership on.
He declined to comment on what area of Cambodia the company was targeting, but confirmed that the new processing plant and the land acquisition would be based near each other.
Kith Seng, under secretary of state at the Ministry of Agriculture, Forestry and Fisheries, said yesterday that he had not yet received any information relating to Amira's plans, but he said that agricultural investment was welcome.
"It's no problem. We have to study together how much land we have available," he said.
Agriculture Minister Chan Sarun could not be reached for comment.