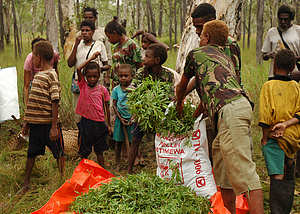 Jakarta Post | Mon, 10/04/2010
Josh Franken, Oxford Business Group
News of progress on the massive Merauke food estate in Papua indicates growing momentum behind Indonesia's attempts to boost its agricultural output through promoting investment and harnessing technology.
On Sept. 2, local press reported that Singapore's Wilmar International was moving closer to finalizing a deal to develop a US$2 billion sugar estate in Merauke, having secured a permit for the development of 200,000 ha of land. Wilmar is in the process of assessing land quality and the area's climate, which is expected to take up to two years.
Conceived in 2007-2008, the project aims to emulate the successful large-scale agricultural projects of Brazil. It has faced opposition; however, from environmentalists who say the 1.6 million ha
scheme threatens protected areas such as virgin forests and water catchment areas, as well as residential areas where the indigenous Malind people live. Local media reported in September that the Forestry Ministry had received a proposal from Papuan authorities to make use of 500,000 ha of the 1.6 million ha area allocated to food and energy estate projects. However, only half of the proposed area could be planted directly since it was not in forested areas allocated for other business aims. The government launched Merauke estate in August, inviting foreign and domestic investors to participate as part of a drive to strengthen Indonesia's food security and its position as a food exporter. The country's agricultural potential is substantial, and it is already a global power in exports of palm oil, coffee and rubber. Industry Minister Mohamad Suleman Hidayat told media in August that the government is seeking help from investors to develop infrastructure in the Papuan province, saying that it needs roads, ports and power plants to ensure "sustainable" production. While increasing exports is a primary concern, Agriculture Minister Suswono told OBG in a recent interview that the government has launched a new strategy to increase domestic food production. Already the world's fourth most populous nation, the total population is expected to rise from
238 million this year to 288 million within the next decade.
Jakarta plans to encourage investment by tackling problems in the business climate, increasing the quality of infrastructure, and reducing logistics costs, said Suswono. The authorities have also designated areas of the country for the development of specific crops, and are clarifying investment legislation.
The government's reform efforts are also aimed at tackling long-standing investment challenges in Indonesian agriculture such as price volatility, policy contradictions and unclear or incomplete zoning rules.
"Chaotic zoning has caused legal uncertainty, which leads to high investment cost," Sunarso, the vice-president of PT Bank Mandiri, an Indonesian financial firm, told a recent seminar on agriculture. Indeed, the Merauke project was held back by zoning complications, with authorities determined to ensure that protected forest was not handed over for agricultural development.
Suswono asserts that the government is making the necessary steps to protect the environment
while promoting agricultural development. "Balancing efforts to increase the availability of land
for agricultural purposes and limiting deforestation is achieved by improving the usage of marginal land [dry land] for agricultural commodities, especially in Kalimantan," he told OBG. "The government of Indonesia has established the forest conservation law and put a law enforcement to protect rainforest."
The Agriculture Ministry's IT division is increasingly active in deploying technology to improve productivity and resource management, including in land allocation. It is deploying GPS to map wetland areas to assess their potential for agricultural use, which should support efforts to ensure that the balance between agriculture and conservation is maintained.
Technology is also being used to monitor seed aid and subsidies, and to deliver information to farmers to enhance their ability to grow, process and sell their produce and to keep track of changeable climatic and market conditions.
Indonesia's climate means that, for the foreseeable future, it will be stronger in some agricultural sectors than others. For example, it will remain a major crude palm oil and coffee exporter, but is unlikely to export cattle or dairy products. However, domestic output of most agricultural goods has significant scope for expansion and the government's strategy of promoting investment in agriculture should help the country boost capacity in key areas to improve food security, and encourage export potential.
The writer is the editorial manager of the Oxford Business Group