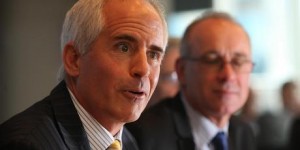 NZ Herald | Friday Sep 24, 2010
By Christopher Adams
Fonterra is planning to ramp up its investment in Chinese farms.
The dairy co-op already operates a farm in China, which was established in 2007.
Speaking at Fonterra's annual result briefing yesterday, chief executive Andrew Ferrier said that operation had bred more cows than it could sustain, meaning Fonterra was in the process of "building" two more farms.
He said the company's long-term plan was to invest in up to 20 Chinese farms.
"What China needs is safe, healthy Chinese milk and it starts all the way up stream with farming," Ferrier said.
Fonterra, which yesterday announced an almost record payout to its farmers, would also invest in the dairy ingredients side of its business in China.
"We obviously have customers that are looking at more manufacturing of [Fonterra] ingredients in China to complement products that are coming out of New Zealand," Ferrier said.
He said adding value to its products was another priority for Fonterra.
The firm's focus over the past two years on the production of infant formula, he said, was one example of this approach.
"That type of activity which is adding value to ingredients will continue both here in New Zealand and globally," he said. "You're going to see steady investment right across the whole portfolio."
Fonterra yesterday announced a payout for dairy farmers of $6.70 per kg of milk solids, before retentions, up from $5.21 last year.
The payout comprises of a Milk Price of $6.10 per kg of milk solids and an annual dividend of 27 cents per share, with 33 cents per share retained by the co-op.
This means a farmer with a 100 per cent share-backed supply will receive a cash payout of $6.37 for every kg of milk supplied during the past season.
Federated Farmers dairy chairman Lachlan McKenzie said that while farmers were "delighted" with the payout - the costs facing farmers had risen significantly.
Recent Ministry of Agriculture & Forestry (MAF) modelling put the break-even point for the bottom 10 per cent of dairy farms at around $6.06 per kg of milk solids, he said.
McKenzie said that for the leading 10 per cent of dairy farms the break-even point was around $4.26 per kg of milk solids.
Fonterra also announced an after-tax profit for the year ended July 31 of $685 million, up 12 per cent on the prior year.
Fonterra chairman Sir Henry van der Heyden said farmers had shown their support for the co-op through investing in an additional $459 million in shares recently.
"As a result of that our gearing ratio has come down quite considerably from last year," he said.
Fonterra says its balance sheet is in its best shape in the co-op's history with its gearing ratio down to 44.9 per cent from 53 per cent a year earlier.
Van der Heyden said 2009/2010 had been a record 12 months for production, with almost 1.3 billion kilograms of milk solids processed.
Ferrier said the profit announced yesterday reflected mixed underlying earnings, with Fonterra's consumer businesses up 19 per cent on the previous year.
The co-op's ingredients businesses had a reduced contribution to the profit, he said, mostly due to volatility in global dairy markets.
Ferrier said that while volatility was "an ongoing reality" of the global dairy trade, the co-op was taking steps to lessen its impact on the business.
"We welcome the introduction of the new dairy futures exchange by the NZX which will introduce new options, over time, to hedge risk from international dairy price volatility for Fonterra, for our farmers, and for our customers."
Ferrier said Fonterra was making good headway in moving away from using road transport to rail in New Zealand.
The recent opening of a major logistics hub in Hamilton resulted in Fonterra reducing 65,000 annual truck movements.
"It is all about the efficiency of all of our activities on behalf of farmers here in New Zealand and getting product out to the world," Ferrier said.
He said Fonterra was also moving towards providing its offshore partners with the co-op's "unique technology" and ingredients to manufacture speciality products overseas.
This made more sense than making products in New Zealand and shipping them across vast distances to market.
"What we're doing is taking the technology and putting it on top of partners' facilities or facilities that we own in other markets," he said.
Van der Heyden said recent weather conditions across New Zealand, and the Canterbury earthquake, had made September a challenging month for Kiwi dairy farmers.
"Some of our farmers are starting to actually struggle on farm because the weather conditions," he said.
Van der Heyden said it was too early to say what impact the recent bad weather would have on milk production.
Fonterra's annual result briefing took place only hours after around 20 Greenpeace activists staged a protest at its Auckland headquarters against the importation of palm kernel, forcing the evacuation of the building.