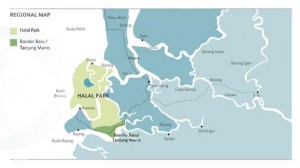 The Star | Tuesday September 21, 2010
By JACK WONG
KUCHING: An established business group in Bahrain is among several global investors keen to invest in Tanjung Manis Halal Hub in Mukah.
Sarawak Timber Industrial Development Corp (STIDC) general manager Datuk Sarudu Hoklai said the Bahrain group, which visited the proposed halal hub project five months ago, was interested to invest in food production.
"It is keen on rice production and livestock breeding,'' he told reporters at STIDC Hari Raya Aidilfitri open house here on Sunday.
It is learnt that the group, which has also toured several sites in Peninsular Malaysia and Sabah, is seeking large tracts of land to grow rice and rear cattles.
The group is expected to submit its investment model by December for consideration by state-owned STIDC, which oversees the halal hub development.
Sarudu said investors from the Middle East and other parts of the world had shown a lot of interest in the halal hub, adding that follow-up talks would be carried out to discuss the details of their proposed investments.
Sarawak Chief Minister Tan Sri Abdul Taib Mahmud led an investment mission to London and Oxford last month to promote the halal hub.
Taiwan's Sea Party Technology Co Ltd, the main investor in Tanjung Manis Halal Hub, has committed RM2bil in food processing, manufacture of feed meal, and research and development facilities in aquaculture and agriculture. The company has started large-scale breeding of tilapia fish.
Sarudu said infrastructure development in the halal hub, which will cover 77,000ha, was progressing well.
There is a plan to gazette the halal hub into a special economic zone to provide more tax incentives to investors.
The halal hub will be a green development, allowing only certain types of vehicles to enter the proposed food production zone.