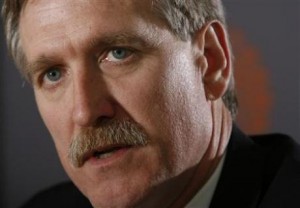 The National (UAE) | September 16. 2010
Tamsin Carlisle
JOHNSTON, IOWA // Pioneer Hi-bred International, the agriculture arm of the US group DuPont, has agreed to acquire a controlling interest in Africa's largest seed company in a bid to increase crop yields on a continent that could become a major contributor to global food security.
Pioneer, based in Iowa, did not disclose the terms of the deal to acquire a majority share in Pannar, a privately held company founded in the Kwa Zulu-Natal region of eastern South Africa in 1958.
Pioneer said Pannar was an "ideal" partner to help develop its global business. "I believe we will make dramatic improvements to meet the needs of sub-Saharan farmers that we will also leverage around the globe," said Paul Schickler, the president of Pioneer.
"Our respect for Pannar, their people and their products runs deep. Together with Pannar, we can increase investments in innovative products and services for farmers across Africa.
"This will enhance productivity, improve food security and grow our business."
The main business of both companies lies in producing improved crop varieties through a combination of plant breeding and biotechnology. Pannar's expertise, however, has been more regionally directed than Pioneer's, due to its major African presence.
Pioneer's efforts have been focused on improving the characteristics of three main crops that are expanding in global importance: maize, soybeans and sunflowers.
Africa's 30 million hectares of land available for cultivating maize represents a big opportunity for improved productivity.
The average African grain yield for maize of 1 tonne per hectare is less than a third of the average yield from the crop in other developing countries, and only a fifth of the average maize yield achieved by the developed world's agricultural sector.
There are many reasons for this but one is that African agriculture has long been stuck in the age of "open pollination" of its staple crops by bees and other natural agents. This leads to large variations in the characteristics of plants grown within a single area and in the inheritable traits contained in their seeds.
Even a basic move to "hybrid" maize varieties, producing more uniform crops tailored to specific regional needs, could raise yields dramatically, as it did in North America after the Great Depression of the 1930s.
Pioneer's work in speeding up the breeding cycle for developing and selecting new hybrid seed varieties for agricultural use can be transferred to Africa.
There, it could help spur an overdue agricultural revolution on the continent.
Jim Borel, the DuPont executive vice president responsible for the agricultural division, said the company was in talks with Gulf investors to develop the infrastructure needed to improve the distribution of African agricultural products.
GCC states including the UAE, Qatar and Kuwait have recently purchased large tracts of arable land in Africa and other parts of the world, as they seek to enhance food security.
The arid Gulf region is increasingly dependent on agricultural imports to feed populations that are expanding rapidly due to industrial development.
But Mr Borel said land investments alone would not be enough to enhance food exports from Africa.
The continent also needed huge road and rail-building initiatives to help transport grain and other agricultural products to market, as well as more liberal export treaties, he said.