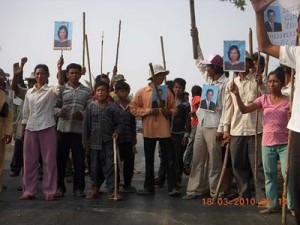 Phnom Penh Post | Thursday, 09 September 2010
Sebastian Strangio and Vong Sokheng
LARGE-SCALE foreign land deals in developing countries such as Cambodia pose "significant risks" to the livelihoods of the rural poor, according to a new report from the World Bank.
In the 139-page report, released in Washington yesterday, the bank analyses the effects of a worldwide increase in foreign agricultural land purchases in countries with weak land-tenure rights.The report, which focuses on nations in Asia, Africa and Latin America, said countries with weak land governance often attracted foreign agro-investments, raising concerns about "the ability of local institutions to protect vulnerable groups from losing land on which they have legitimate, if not formally recognised claims".
"These large land acquisitions can come at a high cost. The veil of secrecy that often surrounds these land deals must be lifted so poor people don't ultimately pay the heavy price of losing their land," World Bank Managing Director Ngozi Okonjo-Iweala said in a statement.
In recent years, Cambodia has attracted increasing interest from foreign agri-business firms. In 2008, the land-poor gulf state of Qatar announced a US$200 million investment in Cambodia's agricultural sector, followed by $546 million in soft loans from Kuwait for developing agricultural infrastructure.
Companies from China, South Korea and Vietnam have also been awarded large-scale economic land concessions, or ELCs, across the Kingdom for crops as diverse as cassava, rubber and cashew nuts.
In Cambodia, however, an assessment of the impact of ELCs has been hampered by a lack of data, including the total number of ELCs awarded and an accurate set of GPS coordinates for each concession, the bank said. It cited statistics from 2006 listing 61 ELCs in Cambodia covering 958,000 hectares – 288,000 of which were to foreign investors – but said that the figures had not been updated in line with government promises.
Chheng Kim Sun, director of the Forestry Administration, said last week that more than 100 companies currently hold ELCs in Cambodia, covering more than 1.3 million hectares.
Rights groups have long criticised the awarding of such concessions, saying that they have fuelled an epidemic of sometimes-violent rural evictions.
Local rights group Licadho reported last year that in the 13 provinces where it maintained a presence, an estimated 261,705 people had been affected by land-grabbing since 2003.
Mathieu Pellerin, a monitoring consultant at Licadho, said he had not seen the report, but that its main conclusions were in line with what local rights activists had been saying for several years. The lack of "big picture" information on ELC allocations was certainly a concern, he said, in addition to the lack of data and consultation given to local communities before the granting of concessions.
Pellerin said it was a welcome sign that the World Bank – which has come under fire from rights activists for its involvement in a nationwide land-titling programme – had recognised some of the challenges facing Cambodia. "Hopefully this means the World Bank will become more proactive in pushing for stronger land-tenure rights in Cambodia," he said.
Chith Sam Ath, executive director of the NGO Forum on Cambodia, said that it was up to  the government to provide more information and called for a "mechanism of discussion and dialogue" on the issue among the government, donors and civil society.
Cheam Yeap, a senior lawmaker for the Cambodian People's Party, defended the country's record on ELCs and warned against comparing Cambodia to countries in Africa.