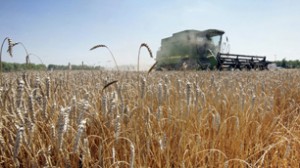 CBC News | Monday, June 7, 2010
The National Farmers Union is warning that the Canadian family farm is under threat from increased corporate control and foreign ownership.
In a report released Monday, the NFU states that foreign and corporate investors are buying up family farms at a brisk clip as poor economic conditions, the global financial crisis and a spike in food prices make farmland an attractive investment.
"We are seeing, increasingly, agricultural land being used as a commodity and investment commodity," said NFU President Terry Boehm in an interview with CBC News.
Boehm added that former family farm land is now often growing crops that are processed outside the geographic region where the farmland is located, including crops used to make energy products like agri-fuels.
Debt issues cited
The union leader is lobbying for the federal and provincial governments to step in to control foreign and corporate investment in farmland, and address debt issues plaguing family farms so they might return to prominence. "For each net income dollar farmers earn, they must shoulder, on average, 23 dollars in debt. Burdensome debt distorts the way farmers make decisions — forcing many to focus less on the soil, the future and nature, and more on short-term cash flow," says the NFU report, titled
Losing Our Grip
. One of the recommendations the NFU is making is that government develop legislation to regulate who can own farmland. "Canada and its provinces must enact a unified set of land ownership restrictions wherein farmland can be owned only by individuals who reside in the province in which the land is located, or by incorporated farming operations owned by individuals who reside in the province in which the land is located," the report said. Richard Gray, an agriculture economist at the University of Saskatchewan, said while farms may currently seem like a good investment for corporations, eventually the financial risks involved in operating them will slash profit margins and deter companies from purchasing them. "As we get poor margins, I think the corporations are going to have trouble paying their investors a very good return on their investment," Gray said.