Malaysian Insider | 7 June 2010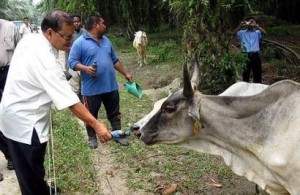 By Boo Su-Lyn
KUALA LUMPUR, June 7 — A unit of the Federal Land Development Authority (Felda) will invest RM688 million on a livestock project located at several of its oil palm estates in a joint venture with Felda Iffco Sdn Bhd and Middle East Oils Grains Ltd.
The joint venture between Felda Global Ventures Livestock Sdn Bhd (FGVL) and the two other companies called Felda IffcoAllana Malaysia Sdn Bhd (FIAM) was announced today although the project will take off in the third quarter this year at Felda oil palm estates in Kuala Lumpur, Penang, Johor and Sabah.
"FIAM has been set up to undertake the development of an integrated livestock business in Malaysia...to address the issues of Malaysia's low self-sufficiency in local beef and milk production as well as leading Malaysia into becoming the largest halal meat producer in the region," Felda chairman Tan Sri Dr Mohd Yusof Noor told reporters today.
Currently, Malaysia only produces 25 per cent of local beef consumption and five per cent of its domestic milk supply, said Prime Minister Datuk Seri Najib Razak in his speech at the FIAM launching ceremony today.
Najib added that the current local supply of beef and milk may not be adequate given the expected population growth in Malaysia, which will increase the country's reliance on the import market.
The project is expected to increase Malaysia's level of self-sufficiency in beef and milk production from 25 per cent to 40 per cent and from five per cent to seven per cent respectively within five years, officials said.
"FIAM has... major involvement in all key activities across the value chain of livestock industry namely livestock rearing, feedlot farming, dairy farming, feedmill and livestock products processing," said Yusof.
FGVL owns 40 per cent of the joint venture while Middle East Oils Grains Ltd (MEOGL) also owns 40 per cent and Felda Iffco 20 per cent.
The company will provide access to over 850,000 hectares of oil palm land while MEOGL, which is owned by India-based meat producer Allanasons Limited, will contribute technical expertise in setting up abattoirs of international standards, said Yusof.
Allanasons is the largest meat exporter to Malaysia and has 40 years of experience in halal meat processing, he added.
Felda Iffco, a 50:50 joint venture company between Felda Global and Iffco Holdings, owns about 20 per cent of the Australian Agricultural Company, which is the largest cattle breeding company in Australia with approximately 610,000 cattle on around one per cent of Australia's total land area.
FIAM will acquire the 20,000 head of cattle owned by a Felda Holdings Berhad subsidiary called Felda Farm Products to kickstart the project.
A 50:50 joint venture between Felda's IT arm Felda Prodata Systems Sdn Bhd and technology consulting firm Innovation Associates Consulting Group was also officiated today to undertake large-scale technology consulting and IT-related services.
Felda Prodata Systems Sdn Bhd is part of the Felda Global Group that provides IT-related support services to the Felda Group, as well as other services like application development, network solution and multimedia.
Innovation Associates Consulting Group is one of the largest consulting firms in Malaysia that provides technology consulting and outsourcing services.
(
Note: The Allana Group of India, owner of Allanasons, is the holding company of IFFCO
)