Vientiane Times | 7 June 2010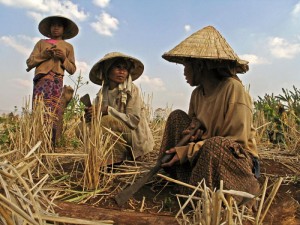 By Khamphone Syvongxay
The government of Kuwait has provided about US$350,000 to the Ministry of Agriculture and Forestry to study the suitability of extending irrigation so rice can be grown for export to Kuwait.
The ministry is selecting experts from Kuwaiti, international, and domestic companies to take part in the project.
Project director Somchit Thongphanheuangsy told Vientiane Times last week the Nabong Khoksa Pumping Irrigation Project in Xaythany district, Vientiane, currently supplies water to 500 hectares of rice fields. If the findings of the study the area are positive, irrigation would be extended to cover 4,000 hectares.
Funding of more than US$20 million from the Kuwaiti government will be used to carry out the project.
"The Kuwaiti government is interested in this area but I cannot say for sure whether or not it will be suitable for rice cultivation," said Mr Somchit.
"If experts accept that it is suitable for rice cultivation for Kuwait, the next stage will be to work together on planting techniques."
Laos and Kuwait reached agreements on many areas of cooperation during an official visit to the State of Kuwait by Lao Prime Minister Bouasone Bouphavanh in January last year.
Memorandums of under-standing were signed after discussions between delegates from the two countries focused on the exchange of labourers, setting up of embassies, and facilitation of aviation services.
The two sides also agreed to cooperate in agriculture, industry, trade and tourism. The agreements paved the way for further cooperation between Laos and Kuwait.
Laos and Kuwait have a longstanding relationship and this cooperation will strengthen the friendship between the two nations.
Laos is rich in natural resources and more than 50 percent of its population are farmers, producing sufficient rice for domestic consumption and some for export.
Last year, the government encouraged farmers to produce 3.1 million tonnes of rice and this year the amount is expected to reach 3.3 million tonnes, according to a report from the Ministry of Agriculture and Forestry.
Most of Kuwait's land area is desert, which is rich in oil. It has a GDP of over US$130 billion and a per capita average income of US $39,300.