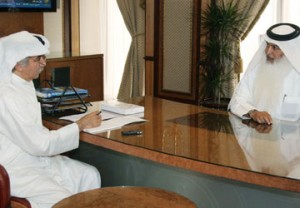 The Peninsula | 2 June 2010
DOHA: With its long-term objective to ensure food security not only in Qatar but also the GCC region as a whole, Hassad Food says it would soon begin meeting at least 50 percent requirements of wheat in the country.
"If things go as planned, we will provide the market with 50 percent of wheat requirements," chairman of the company, Nasser bin Mohamed Ali Fuhaid Al Hajri, told reporters here on Monday.
Addressing a news conference at the company's headquarters before its annual general meeting (AGM), he said the firm's overseas investments aim at ensuring stable supplies of rice, sugar, grain, meat and animal fodder at lower prices.
The company is also setting up a poultry farm at a cost of QR300m which will meet at least 20 percent of the local requirement. Production is likely to begin within 36 months.
Good quality local farm produce will be supplied at reasonable rates as the government is coming out with a policy in about three months to back up local farms.
The Qatar Development Bank will provide the necessary financing to the farmers and Hassad and the Ministry of Environment will provide technical support.
Farmers would be able to sell their produce to Hassad directly and if they would like they could market their produce directly after packaging has been taken care of by Hassad.
The company intends to invest between $500m and $700m this year and its 100 percent subsidiary in Australia plans to do lamb breeding on a commercial scale. Crops in Qatar are to be grown in green houses.
Meanwhile, news agency Reuters, giving the gist of an interview with Mahendra Shah, director of the Qatar National Food Security Program (QNFSP), said Qatar is laying emphasis on home-grown agricultural produce.