Reuters | 2 June 2010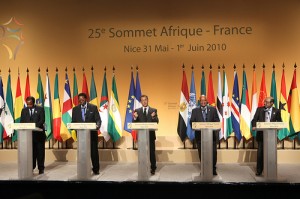 France will set up a $120 million fund to help Africa's farming and food distribution sectors, a communique from the 25th Africa-France Summit said on Tuesday, as the continent looks to ensure security of food supplies.
African agriculture faces multiple constraints, ranging from poor rural infrastructure, to lack of access, sufficient water, fertilisers, and machinery.
To ensure sustainable food production and achieve food security, the agricultural sector needs to attain significant growth rates over the next four decades.
"France has announced the establishment of an investor fund ... destined to support the development of farming projects in Africa and the distribution of food stuffs," the communique said.
In 2008, Africa produced 152.3 million tonnes of cereals, 12 percent more than the previous year, while projections for 2009 indicate that the continent's cereal production could have reached 160 million tonnes, according to the United Nation's Food and Agriculture Organisation. Sub-Saharan Africa has around 395 million hectares of unused farmland.
The fund will start at $120 million and could increase to as much as $300 million. The communique did not specify where or how the fund would operate.
President Nicolas Sarkozy and African leaders, including South Africa's Jacob Zuma and Nigeria's Goodluck Jonathan, also agreed to work together towards creating a framework to fight volatility of commodity prices and to reinforce food security, when France takes the helm of the G8/G20 group of large economies in 2011.
In sub-Saharan Africa, since 2009, over 265 million people are malnourished and 30 percent of the population suffers from hunger, FAO's Director-General, Jacques Diouf, has said.
The Africa-France Summit, which closed on Tuesday, has been held since 1975. France is looking to claw back some of its historical economic influence in the continent, given the emergence of new rivals such as China, which has become Africa's biggest trade partner.
France welcomed about 40 African leaders in the French Riviera city of Nice to discuss issues ranging from Africa's political position globally to the environment and security.