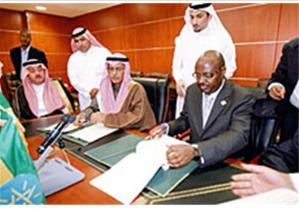 Arab News | 29 May 2010
By K.S. RAMKUMAR
JEDDAH: Saudi trade and investment in Ethiopia is expanding. "The investment increase is particularly seen in the agricultural sector and is in line with Custodian of the Two Holy Mosques King Abdullah's initiative to provide food security for the Kingdom. Agricultural lands being leased by Saudis have been increasing by the day in Ethiopia," Ethiopian Consul General Tekleab Kebede told the community at the country's national day celebrations at the consulate over the weekend.
Kebede said many Saudis and local companies had been signing contracts with landowners across Ethiopia to produce grains and other agricultural products. "Rice produced by a prominent Saudi company was presented to the king recently," he said.
Saudis are allowed 100 percent investment in projects in Ethiopia. "They either lease plots of land or enter into deals in cooperation with local partners," the consul general said. Such investments are now worth millions of dollars, he added.
"We have plenty of land, water and abundant labor, while Saudis have capital. We have been giving the message to Saudis that we complement each other in boosting our bilateral business, investment and trade volumes. After all, both countries have close geographical proximity," Kebede said.
Kebede said the bilateral trade volume had exceeded $500 million, with the balance remaining in favor of the Kingdom due to heavy oil imports into his country. "The Kingdom remains our second trading partner, with our trade continuing to increase," he said, adding that Saudi investors were prominent in his country and have been increasingly investing in agriculture, tourism, hotels, mining and manufacturing.
The consul general said a ministerial delegation belonging to agriculture and rural development had a successful visit to the Kingdom earlier in May. "They discussed with their Saudi counterparts in Riyadh and Jeddah new proposals related to livestock and meat exports to the Kingdom," he said. "We have huge livestock potential. We have already been exporting livestock and meat, but our new thrust is in further strengthening our presence in the Kingdom's food sector," Kebede added.
The consul general said May 28, 1991 marked the end of 17 years of war, thus heralding peace and stability that resulted in the country's march toward economic, social and political progress.
"Ethiopia is changing for the better, and the country is open for business and foreign investment," he said and urged Saudis to take advantage of the "congenial" investment atmosphere.