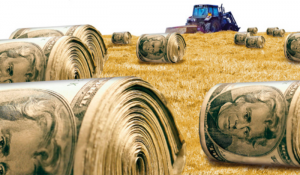 Agrimoney | 28 May 2010
Land may become the world's biggest asset class, and listed farm operators win an upward rerating, Hardman & Co has said in a report identifying agriculture services groups as the next focus of sector investment.
Farmland prices have, in doubling in the UK and US over the last decade, made shares look "an embarrassingly inept bet", the London broker said. Stocks have fallen by 10-20% during the same period.
And the outperformance looks set to continue, driven by rising food prices and demand from investment funds.
Population pressure
Farmland, whose $5,000bn value equates to about 7-10% of the value of world equity markets, could be worth 15-25% of share values by 2020.
"By 2050, it is possible to argue that food producing land might have a superior value to all other asset classes," Hardman analyst Doug Hawkins said, noting forecasts of rising global populations.
"This land is feeding over 6bn people and is being pressed into feed a further 3bn by 2050."
The broker noted the growth of funds dedicated to investing in farmland, with Emergent Asset Management proposing to invest some $4bn in farms in sub-Saharan Africa, where land is reportedly available for less than $200 an acre, compared with a global average of $1,350 per acre.
The area also being targeted by private equity group Silverlands, which is seeking $300m for its scheme, while Dubai-based peer Pharos Miro has already raised $350m to invest in Africa and Black Sea states.
Growing share
However, land was not the only way for investors to ride the industry's rising tide, with the agriculture sector likely to account for a greater chunk of stockmarket values as its growing importance raises its economic contribution.
Agriculture accounts for 2% or less of economic output in most developed countries.
"But the outlook for these companies to increase their share of domestic and global GDP is significant, as the world grapples with the need to increase food production," Mr Hawkins said.
"This suggests a strong basis for a rerating of agriculture-related investments and assets."
Broader beneficiaries
Besides direct farm operators, the sector's increasing importance would benefit companies providing services and supplies.
"The next phase… will be for investors to focus on the value-adding scientific, infrastructure and management assets needed to generate the extra productivity required from… arable land," Mr Hawkins said.
Genus, the genetic group, and seeds and sprays giants Monsanto and Syngenta were "already proven models".
"We will focus on soil science, water management, land management, plant and animal genetics, crop handling technologies and environmental management."