The Straits Times | 21 May 2010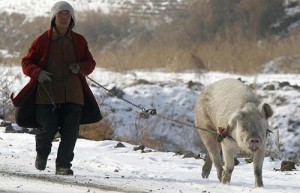 By Lee Yen Nee
SINGAPORE could gain access to a major new source of meat, fruit and vegetables if a massive new farming project in north-eastern China takes off.
At 1,450 sq km, the China Jilin (Singapore) Modern Agricultural Food Zone will be more than twice the size of Singapore and will produce everything from pork, beef and other dairy products to rice, strawberries and ginseng.
The ambitious multi billion-dollar project is a collaboration between the Jilin city municipal government and various Singapore agencies.
Chief among them is Singbridge International Singapore, a wholly-owned subsidiary of Temasek Holdings, which on Friday signed an agreement with the Jilin Municipal Government to study the commercial feasibility of jointly developing the food zone.
The study is expected to take nine months to complete and if the project is given the green light, Singbridge and the Jilin municipal government will jointly invest in the food zone, which will take 15 years to build in three phases.
Singapore has yet to reveal the potential size of its investment in the project, but Jilin officials said on Friday that the Chinese expect to sink in a total of 110 billion yuan (S$22.7 billion).
Speaking at the signing ceremony on Friday, Minister for National Development Mah Bow Tan said that the project was a 'win-win' for both countries. 'Singapore imports food from all over the world and has a stringent food safety regime. China wants to strengthen its food safety regime and produce food for both domestic and export markets,' he explained.