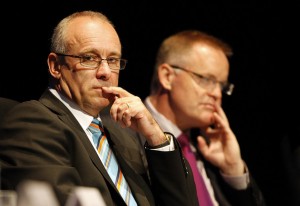 The Southland Times | 18/05/2010
By MARK HOTTON
A German investment fund that bought a majority interest in a Southland dairy farm also has shareholdings in three other dairy companies.
Asset manager Aquila Capital's AgrarInvest fund received approval from the Overseas Investment Office (OIO) to take an 80 per cent share in 46 South Investments, which owns the 403ha Waicola dairy farm near Otautau.
The farm, made up of two blocks of 120.9ha and 282.2ha is farmed by Stephen and Sheryll Smith, who retain the remaining 20 per cent.
AgrarInvest also has three minority shareholdings in New Zealand companies with interests in dairy farms – a 22.6 per cent share in Sakura Farm Management, a 24.6 per cent share in Waihopai Farm Management, and a 24.8 per cent share in Poplar Dairy.
It is understood one of the companies' farms is in Southland while the other two are believed to be in Canterbury.
According to the OIO decision, the fund invests in agriculture and related businesses around the world, including dairy farming in Australia and New Zealand, and beef farming in Brazil.
AgInvest director Cliff King told The Southland Times the rural asset management company had been approached by German-based fund managers Aquila Capital. It had various investment funds in agriculture and other sectors and wanted to establish a small farming fund targeted at the New Zealand dairy industry.
"They're not a great big outfit ... they're just discriminating investors who invest in private equity projects. This is just one fund focused on that."
They were attracted to New Zealand by the strength of Fonterra and wanted to tap in to the industry at the source, he said.
The fund managers were interested in the company's syndicates and how they involved young farmers.
"They just wanted to do a series of small joint ventures with New Zealanders."
More than 70 per cent of AgInvest's investors were New Zealand farmers, with a further 20 per cent New Zealand residents, he said. "We've never really chased overseas investment or been successful with overseas investors. It's only in recent times they've found us."
There was increasing interest investment in dairy and other protein producers because of concerns over food shortages, he said. There has been national debate about the sale of farmland to overseas buyers, following news a Chinese-backed company wanted to spend $1.5 billion on New Zealand farms and processing plants to secure food supplies.
But figures from the OIO show there has been no spike in approval for overseas investors to buy Southland farmland.
OIO manager Annelies McClure said between April 2005 and March 31, 2010, on average, consent was granted for six applications per year.