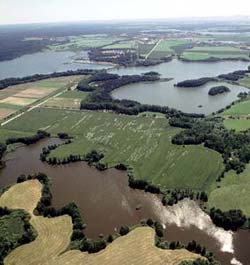 Czech News Agency | 17 May 2010
Prague, May 16 (CTK) - Farms of foreign owners control more than 6 percent of the total Czech farmland area of 3.6 million hectares, weekly Euro says in its latest issue to be published on Monday, referring to data of the Czech Statistical Office (CSU).
There are over 378 farms controlled or partly owned by foreign entities which operate on nearly 230,000 hectares of Czech farmland, Euro says.
Foreigners acquired Czech land during a seven-year moratorium which the Czech Republic negotiated before its entry into the European Union.
Under the moratorium, which is to expire on May 1 next year, foreigners are banned from buying farmland and forests in the Czech Republic.
However, land can be bought by EU citizens which have lived and worked as farmers in the Czech Republic for at least three years, and by legal entities with foreign owners which are based in the country.
"From the total amount of 230 thousand hectares, 201 farms which are 100-percent owned by foreigners account for 28.6 thousand (hectares)," Jiri Hrbek from the CSU told Euro.
Foreigners have mostly set up limited liability companies in the Czech Republic. The remaining 177 farms controlling 201,000 hectares are owned jointly by Czechs and foreigners.
However, no statistics cover the area of Czech land which foreigners control based on an agreement on a future contract, waiting for the end of the moratorium when they will be able to legalise their ownership, Euro says.
Foreigners can also acquire land through intermediaries from the state-run Land Fund which is in charge of land privatisation. The fund has transferred around 500,000 hectares of land into private ownership so far.
"We don't know to what extent foreigners participate in this," Land Fund head Radim Zika said.
There is now around 270,000 hectares of land under the Land Fund's management. The fund wants to privatise 53,000 hectares of land this year and 140,000 hectares early next year.
The Czech Republic negotiated the seven-year temporary ban on the purchase of land by foreigners during its entry in the EU to gain time to resolve restitution claims and enable local citizens to acquire land first.
Czech left- and right-wing political parties disagree over whether the Czech Republic should seek to extend the moratorium, as was done by Hungary and Slovakia, for example.
The leftist Social Democrats (CSSD) are in favour of extending the moratorium, while the rightist Civic Democrats (ODS) and TOP 09 are against the extension.