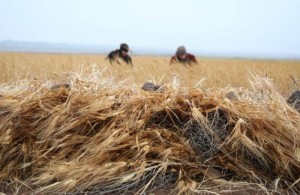 Wall Street Journal | 17-05-10
Rich in oil money but poor in arable land, the Saudi government is groping for a strategy to ensure it continues to meet the appetites of a growing population.
By Summer Said and Tim Falconer
During the recent boom years it became common to talk about how many of the huge building projects in Dubai -- like the Palm Island -- had joined the Great Wall of China as among the few man-made structures that could be seen from space.
But satellite pictures of the Arabian peninsula have for years shown green dots in the Saudi deserts on the edges of the Najd Central Plateau. These are the country's circular farms -- the average areas of which are around 54 times that of a soccer field. Testament to the ingenuity it requires to grow food in a desert nation, they are created by a combination of huge government subsidies, the latest farming techniques and water pumped from underground caverns to rotating sprinklers.
Only about 2% of the country's enormous landmass is arable. Saudi Arabia is spending an ever-greater proportion of its petrodollars overseas -- a strategy that some critics label "agricultural imperialism" -- to secure a supply of food that will help alleviate shortages at home.
Saudi's population is growing at a rate of more than 2% each year and is expected to rise to 29 million by 2015 and almost 32 million by 2020, according to Riyadh-based Banque Saudi Fransi. The sheer pace of population growth makes Saudi's food supply problems all the more acute.
Pradeep Unni, a senior research analyst with Richcomm Global Services in Dubai, says: "Meeting the demands of the growing population's food needs is a tough challenge for Saudi Arabia." He argues that the kingdom's decision to use oil revenues to secure agricultural land contracts in different countries is the correct one. He adds: "The cost of producing food grains under the Saudi Arabian climatic conditions makes this choice an economically viable one."
The kingdom already imports the bulk of its food. But the decision to buy or rent land in countries such as Pakistan, Sudan and Ethiopia is a relatively new development. It is a trend that analysts say is unlikely to reverse anytime soon. However, some have warned that investing heavily in poor and politically unstable countries may open Saudi Arabia to a new set of risks.
So far, the Saudi government has mostly done deals with near neighbors that already have close links to the Gulf Cooperation Council area. Jarmo Kotilaine, the chief economist at NCB Capital in Riyadh, says the underdeveloped agricultural sectors of countries such as Sudan and Pakistan means that there is room for yield improvement, while their geographic proximity helps keep transportation costs low.
Saudi Arabia's dietary staples -- rice and wheat -- make up a significant portion of overall food imports. In recent years the kingdom has struggled to contain soaring rice and wheat prices as demand consistently outstrips supply.
Saudi doesn't grow its own rice and mainly imports the notoriously thirsty crop from India, Thailand, Pakistan and the U.S. Last year alone it bought more than one million tons of rice, according to the U.S. Department of Agriculture's Foreign Agricultural Service. Last November, in an attempt to trim the kingdom's grocery bill, the government removed a two-year-old subsidy on rice imports, which were adding up to about SAR1.5 billion ($400 million) a year.
In January 2008, Saudi Arabia decided to reduce its production of wheat by 12.5% a year, abandoning a 30-year-old program to grow its own, having achieved self-sufficiency but at the cost of depleting the desert kingdom's scarce water supplies. Saudi consumes around 3 million tons of wheat a year.
It is such difficulties in balancing the supply and demand of food that have led to a number of recent high profile acquisitions of foreign farmland. These include an agreement signed by the BinLaden Group, a privately owned family conglomerate, in August 2008 to invest at least $4.3 billion, on behalf of Saudi investors, to develop 500,000 hectares of rice farmland in Indonesia.
In February last year, Hail Agricultural Development Company, or Hadco, which is owned by Saudi dairy firm Almarai, said it plans to invest about $45.3 million over the next two years to develop 9,239 hectares of farmland in northern Sudan for wheat, corn and feed for livestock.
Analysts expect these kinds of deals to proliferate in the coming years.
John McKillop, the managing director of Clyde Agriculture, an Australian-based farm manager, recently visited Dubai as part of a regional roadshow to sell his company's portfolio of 12 farm properties. The importance of food security in the Middle East makes the region an obvious place for him to tout his wares.
"The motivation for the likes of Saudi is food security whereas a U.S. investor might be more focused on the return on the asset," says Mr Mckillop.
The process of buying up large swathes of land in foreign countries is politically sensitive and has opened up the country to the charge that it is potentially exploiting poorer nations and opening itself up to political risk.
"Gulf countries, including Saudi Arabia, have been looking at nations that are unstable politically, socially and economically, which is a risk on the longer term," says a senior executive at a leading Middle Eastern food commodities trading firm who declined to be named. "But beggars can't be choosers. This seems to be only way out for the region."
Andrew Ferrier, the chief executive of New Zealand's Fonterra Cooperative Group, the world's biggest dairy exporter, agrees but reasons that Saudi Arabia is in a strong bargaining position.
"[Saudi Arabia has] a lot of commodities that are in incredible demand like oil, and they need a lot of commodities in demand like grains. They should be in a strong position to trade on this over the very long term," says Mr. Ferrier.