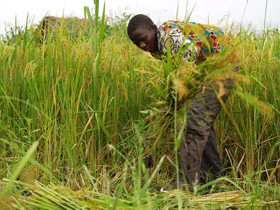 The Saudi Gazette | 27 April 2010
By Joe Avancena
DAMMAM - Benin, one of Africa's most stable democracies, is offering agricultural investment to Saudi Arabia, particularly in the areas of rice, cotton, vegetable oil, and nuts production, a trade delegation from that country who met with Saudi businessmen at the Asharqia Chamber of Commerce and Industry said here Monday.
"Our country has rich agricultural resources, which could provide steady food security to Saudi Arabia," said Akinde Rene Robert, head of the delegation. Benin is one of the major sources of cotton to the Saudi market, exporting to the Kingdom 200,000 tons in 2009.
In 2008, Saudi imported nearly SR.300 million worth of cotton. Cotton products represent 90 percent of Benin's total agricultural products export.
"Benin could be considered a suitable place for the development of farm projects in cooperation between companies of the two countries," Robert added.
Robert said the mission is visiting the Kingdom to offer other investment prospects in Benin, in addition to agriculture, such as in the construction, transport, and telecommunication sectors and seaport operation.
"We want to expand our economic ties with Kingdom, and the eight years that diplomatic ties have been ongoing between our two countries have been very significant and fruitful," said Daouda Wabi, the ambassador Benin to Saudi Arabia.
According to the Wabi, there is no significant investments yet of Saudi Arabia in Benin.
"One significant relation we have achieved so far is the presence of some 1,000 Beninese students in Saudi Arabia who are enrolled in various universities taking up Islamic studies, medicine, business and law, "the ambassador said.
He said the Beninese students have been provided full scholarship program by the Saudi government.
Benin, formerly known as Dahomey, has strong civil society and a proliferation of political parties. The country, however, is yet to further improve its economy, particularly its infrastructures. Being severely underdeveloped, corruption is also rampant in both the public and private sectors.