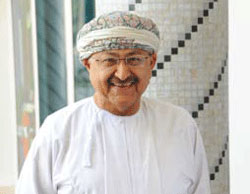 Oman Daily Observer | 27 April 2010
By Conrad Prabhu
MUSCAT -- The government is weighing options for securing part of the country's requirement of strategic staples through offshore farming, Maqbool bin Ali Sultan, Commerce and Industry Minister, stated here yesterday.
Delivering the keynote address at the closing of the 2nd Oman Economic Forum at Shangri-La's Barr al Jissah Resort & Spa, he said the move was among a raft of initiatives either under consideration or implementation as part of the government's food security strategy.
Other key initiatives involve the creation of strategic stockpiles of staples, such as rice, flour, sugar and other commodities, at key places around the Sultanate. Food silos are also under various stages of design and construction in Muscat, Sohar and Salalah, he added.
In a detailed overview on Oman's Food Security Strategy, Maqbool said the Ministry had begun to develop a comprehensive policy to stave off a repeat of the food crisis that sent prices of essential commodities skyrocketing during 2007-2008.
Although global food production has since stabilised, and prices having fallen in the wake of the 2008 global financial meltdown, he warned against complacency on the part of food importing nations, such as the Sultanate, given the potential risks of a repeat of the food crisis.
A national committee set up at the height of the crisis in 2008, has since been tasked with drafting a comprehensive strategy on food security, Maqbool said. This committee has identified a number of food items as strategic to Oman's food security interests. The list includes rice, flour, vegetable oil, sugar, meat, eggs, fish, milk powder, tea and coffee.
The panel also accorded a key role for the Public Authority for Stores and Food Reserves (PASFR), which is overseeing the establishment of strategic stockpiles and food silos in key locations around the country, Maqbool said.
At the same time, an international company has been commissioned to assist the Ministry in the formulation of a strategy for food security. The findings of the first phase of the study are currently being evaluated by key government departments and other stakeholders, he said.
Separately, UNCTAD, a specialised UN agency, has been tasked with studying the feasibility of acquiring farm land on lease in countries with arable land and abundant water, for the cultivation of strategic crops.
The study will weigh the benefits and potential risks associated with offshore farming, he noted.
Various studies on food security have also produced a number of recommendations on enhancing security of food supply, the Minister said. Notable is a proposal mooting the procurement of essential commodities through existing bilateral commitments between Oman and food exporting nations.
Experts have also identified the need for the establishment of an 'early warning system' that would alert authorities to an impending food crisis, based on indicators revealed by a database compiled for the purpose.
Improved surveillance of the marketplace, with a view to combating monopolistic practices and price manipulators, has been mooted as well.
Also under consideration is the potential use of treated water for irrigation, the Minister said, adding that Sultan Qaboos University is studying the viability of wheat cultivation in the Sultanate. But he ruled out any large-scale cultivation of staples like rice and wheat, pointing out that resource constraints made such a pursuit commercially unviable.
Oman, he noted, would continue to depend on imports for a significant proportion of its food requirements, which stands at 100 per cent in the case of rice, 80 per cent for meat, and 60 per cent for fruits and vegetables. But he underlined the potential for enhancing farm output through advanced farm techniques, efficient irrigation, and modern technologies. Research centres to help boost farm and livestock output have also been mooted, he said.
Furthermore, to ensure that fishermen and farmers have greater access to markets, the Ministry in cooperation with other government departments is establishing a wholesale market for fresh fish, as well as markets for fruit and vegetables, especially along the Batinah region.
In concluding, Maqbool underlined the potential for local and foreign investment in initiatives that enhance Oman's food security.
Opportunities are aplenty for cooperatives and other investors in farming, agriculture and the fisheries sectors, particularly in the transport, packaging, and marketing segments of the business.
He also noted the potential for investment in fish processing, and value addition of dates, among other areas.