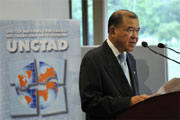 UN News Centre | 26 April 2010 | excerpt
26 April 2010 – Responsible investment in agriculture in developing countries can help them tap the enormous potential in farming in the wake of the recent food crisis, the head of the United Nations trade and development said today, calling for both national and international efforts to ensure domestic economies benefit.
"There is an urgent need to invest more in agriculture both to ensure food security and as the basis for long-term economic development," said Supachai Panitchpakdi, Secretary-General of the UN Conference on Trade and Development (UNCTAD), when he addressed a meeting of the agency's investment, enterprise and development commission.
The five-day meeting in Geneva will focus on the role of States in improving efficiency in public investment for development.
"Smart laws and procedures, organizational schemes, and e-government tools that have demonstrated their efficiency in one country could be helpful to other countries confronted by the same problems," Dr. Supachai said.
According to last year's UNCTAD World Investment Report, global foreign direct investment (FDI) in agricultural production has been increasing.
Dr. Supachai, however, stressed that that such mounting investment must be not only encouraged, but well managed. "We also have to recognize that the actual amount of FDI in the [agricultural] sector is still low, and that potential risks, such as land grab, may pose serious threats to developing country farmers," he added.
He said national governments need to have comprehensive measures in place to ensure that FDI works to the benefit of domestic economies and agricultural sectors. A global set of principles should also be established to guide the agricultural investments of transnational firms, Dr. Supachai added.
...