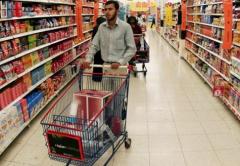 Gulf News Report | April 26, 2010
Authorities plan to eliminate price shocks arising from import dependence
Dubai: The UAE will set up a mechanism to stock basic food items as part of a plan to ensure continuous food supplies and price stability in the local market.
The move will help the country to protect residents from price shocks caused by an imbalance in the demand-supply curve that could push prices of essentials to a level beyond the average people's buying capacity.
"The UAE currently relies on imports for up to 85 per cent of its food requirements which cost $2.9 billion (Dh10.6 billion) per annum and furthermore the GCC's dependence on food imports had reached $10 billion by the end of 2008," said Goutam Malhotra, exhibition manager at IIR Middle East, said in a recent statement. IIR Middle East is the organiser of one of the leading agricultural shows in the region.
The UAE consumes 800,000 tonnes of rice of several varieties, all of which is imported from a number of countries. The Ministerial Service Council yesterday approved the Ministry of Economy's proposed plan to set up a strategic food stock, according to WAM.
"The go-ahead signal was given at the council's meeting chaired by Shaikh Mansour Bin Zayed Al Nahyan, Deputy Prime Minister and Minister of Presidential Affairs, in Abu Dhabi yesterday," the report said.
"The move aims to increase the national readiness to face any food shortage in emergency and crisis times, as well as to maintain price stability."
Then UAE is heavily dependent on imported food. Although domestic farming is on the rise, it is not enough to reduce dependence on imports which, analysts say, makes the country vulnerable to international price shocks.
"Although the mechanisms are unclear at this stage, the move is a good one and towards the right direction," said Raju Menon, a business analyst and managing partner at Morison Menon, an investment advisory.
Procurement body
"The government might have to create a federal procurement body, such as a food corporation, and build warehouses to store the basic food items and ensure speedy delivery and sale as and when there is a supply shortfall that could push up prices."
UAE authorities and private investors have been eyeing some agricultural lands in African and Asian countries including Sudan and Pakistan to grow crops and process food for future storage that will enhance the country's food security.
"The land acquisition plan for agriculture in Sudan and Asian countries is a good move and will help the country to develop a complete supply chain."
According to independent reports by the Arab Monetary Fund (AMF) and the Arab Organisation for Agricultural Development (AOAD), Arab countries can only produce 30 per cent to 50 per cent of their cereal, wheat, barley and cooking oil needs.
The difference between imports and exports of food products reached a record high of $23 billion in 2008 to bring the cumulative Arab food shortage to $155.5 billion in 2000-08.
"Many GCC countries are suffering from food shortages with the exception, in some cases, of fish and vegetables. "The difference between what their farms produce and domestic consumer demand has increased considerably since 1990," Malhotra said.
The UAE has resorted to a food security strategy of building a stockpile of 15 basic commodities.
Speaking last December Sultan bin Saeed Al Mansouri, Minister of Economy, said that the strategy would establish an early warning system for crises and disasters that may affect national food security.
— With inputs from Zaher Bitar, Staff Reporter
* $2.9b cost of UAE food imports per annum
* $10b cost of GCC food imports per annum in 2008