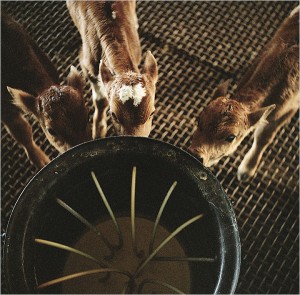 Otago Daily Times | 14 April 2010
By Simon Hartley
The Chinese-backed company seeking to buy 29 North Island dairy farms is also trying to buy up to 100 farms in Otago and Southland and build a dairy factory in Southland.
Greg Roberts, a consultant for Natural Dairy New Zealand, would not say if he had purchase contracts on any farms, but sources have told the Otago Daily Times the firm has indicative interest from the owners of farms milking about 30,000 cows.
The response from southern farmers had been mixed, from being happy to consider selling to outright opposition.
There are 809 dairy herds running more than 400,000 cows in Southland and 355 herds with 180,000 cows in Otago.
Mr Roberts declined to say where the factory sites were, but sources have said three sites have been chosen: at Awarua, on Invercargill City Council-owned commercial land beside a plant owned by Open Country Dairy; at McNab north of Gore, where Mataura Valley Milk plans to build a plant but has yet to raise the necessary capital; and at Makarewa, north of Invercargill, the site of a former meat plant owned by the Alliance Group.
Mr Roberts said the factory would be medium in size, similar to the Open Country Dairy plant at Awarua which is supplied by 94 farms and handles 200 million litres of milk from about 50,000 dairy cows a year.
In comparison, Fonterra's Edendale factory can handle 15 million litres of milk a day.
A Natural Dairy spokesman, Bill Ralston, confirmed the company's interest in the South, but described the approaches to farm owners as "initial due diligence", with no commitment or sale agreements until the company received a ruling from the Overseas Investment Office (OIO) on its North Island purchases.
Mr Ralston said the OIO had had an initial assessment, but asked for more detail on Natural Dairy's business case.
Once the final documentation was lodged, it would take 50 working days for the application to be assessed.
Last week, May Wang, a New Zealand citizen and director of UBNZ Assets Holdings Ltd, in which Natural Dairy owns 20%, issued a statement defending her company from criticism and opposition to foreign ownership of New Zealand farm land.
She said UBNZ Assets Holdings, a New Zealand company, would own the farms, and was initially seeking approval to buy the 29 Crafar family properties recently placed in receivership.
Should the OIO approve the transaction, Hong Kong-listed Natural Dairies would buy outright UBNZ Assets Holdings.
Ms Wang was in Asia raising $1.5 billion for the project, but said there was sufficient capital to buy the Crafar farms ... "and if we gain OIO approval for that, we will continue capital raising in Asia to fund more acquisitions".
Mr Ralston said long-term plans were to build dairy factories in the central North Island and another in Southland.
One factory would manufacture long-life milk and the other infant formula, with Natural Dairy planning to use its packaging and distribution expertise in 24 Chinese cities.
Ms Wang countered criticism of the venture by saying a vertically integrated dairy company would add value because it owned the process and products from the farm to the retailer.
Last week, Fonterra chairman Sir Henry van der Heyden warned the rush to secure future food supplies posed a threat to the co-operative as heavily backed overseas companies bought New Zealand farmland and tied up supplies of food.
Ms Wang said Natural Dairy was doing nothing different from Fonterra owning dairy farms in China to supply the Chinese market.
Last year, a Dubai-backed Maori trust abandoned plans to buy 28 Southland sheep, beef, deer and dairy farms.
Earlier this year it was revealed Auckland-based Southern Pastures, with offshore backing, was trying to raise $500 million to buy farms in the southern hemisphere, but with a bias towards New Zealand.