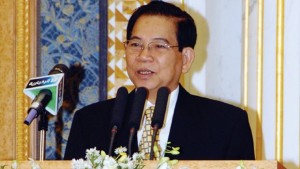 Arab News | 12 April 2010
By GHAZANFAR ALI KHAN | ARAB NEWS
RIYADH: Vietnamese President Nguyen Minh Triet, whose country holds the rotating chairmanship of the Association of Southeast Asian Nations (ASEAN), pledged to bolster Saudi-ASEAN cooperation on the one hand and strengthen ties between the Gulf Cooperation Council (GCC) and the 10-member ASEAN bloc on the other.
Triet said that Hanoi, together with other ASEAN and GCC member nations, would also work to give a strong push to "establish a free trade area," which will boost trade and investment to a very high level.
Triet, who addressed the Shoura Council on Sunday, said that ASEAN was currently preparing for the second ASEAN-GCC foreign ministers meeting to be held in Singapore later this year after its first successful meeting last year. The first meeting, in fact, has already put a road map to promote GCC-ASEAN ties.
Triet, who will fly on a special helicopter over Ras Tanura oil fields on Monday, told Shoura members that he was quite "hopeful of exceptionally strong ties with Riyadh in days to come" in all sectors.
Triet had several official meetings here on Sunday. He held separate talks with Minister of Finance Ibrahim Al-Assaf, Minister of Commerce and Industry Abdullah Zainal Alireza and Minister of Agriculture Fahd Balghunaim. The talks mainly focused on ways and means to bolster bilateral ties after Custodian of the Two Holy Mosques King Abdullah and Triet reaffirmed their desire to translate all proposals into reality. "We need to follow after the two sides had inked four major agreements," said Triet.
On the need to bolster GCC-ASEAN cooperation, he said the two blocs are complementary as "Asian nations rely on the world's largest oil exporting region to secure their energy needs, while Gulf states are targeting food imports and investments in farmland to secure their strategic food supply." He said Vietnam was the second most populous country in Southeast Asia, which is also considered "a favorite destination for foreign investors and international tourists." "You have what we don't have, and we have in plenty of what you don't have, so we need to join hands together," said Triet.
He said the GCC and ASEAN have already commissioned studies on a free-trade agreement, wider economic cooperation, and increased cooperation in education and cultural affairs, the results of which will be reviewed shortly. Triet said Vietnam would exert all efforts to enhance ASEAN-GCC cooperation in priority areas like trade and investment, finance, energy, agriculture, labor and tourism. Trade between both blocs has grown by more than 50 percent annually to $100 billion, he said.
"But, the potentials are still underexploited," Triet said, while referring to the strength of the ASEAN economy and the economic situation of Vietnam. "Vietnam had managed to control inflation, keep a macro-economic balance, secure banking and business systems, and safeguard the social welfare network."
The Vietnamese economy grew at 6.2 percent and 5.3 percent in 2008 and 2009 respectively, making it to the list of a handful of countries which recorded a positive growth rate last year, he added. But, the FDI inflows to Vietnam in 2009 totaled only $21.5 billion, a sharp fall against the record high of $70 billion in 2008.