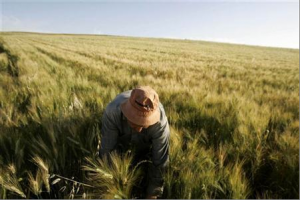 Reuters | 8 April 2010
By Hamid Ould Ahmed
ALGIERS - Algeria plans for the first time to invite bids from foreign investors to lease farmland as part of efforts to ease its food imports bill, the head of a state agriculture body said on Thursday.
Mohamed Cherif Ould Hocine, head of the National Chamber of Agriculture, told Reuters in an interview that details of the plan had not been finalised but said majority stake would not be available and bidders will need Algerian partners.
The farmland on offer would be for high yield crops including grains, he said.
Ould Hocine expected a repeat of last year's record cereal harvest of 6.12 million tonnes, saying that would significantly help reduce imports.
"Our country wants to rationally use its tools with the aim of increasing agricultural production. Algeria is open and it is a liberal country," he said.
Ould Hocine said it was up to the agriculture ministry to set a date for launching the tender for foreign investors and provide details on how to handle the process.
But he said :"Regarding the farms intended for foreign investment, assets will remain national ones because land is not for sale."
"We are going towards a partnership. Foreign investors will never have majority stake. They will certainly provide technology and capital to work in partnership on that land," he added.
In most years Algeria imports 5 million tonnes of cereals to fill shortfalls in domestic output.
But for the first time in 40 years Algeria last March announced it was planning to export barley.
"Last year we got very good production. This year we have had good rain. We are optimistic. We will have a good harvest. This will have an impact on imports. There will be a reduction in imports," said Ould Hocine.
Areas sowed with cereals increased by 2 percent to 3.3 million hectares this year, the agriculture ministry has said.
"FOOD SOVEREIGNTY"
OPEC member Algeria, whose oil and gas exports account for about 96 percent of total exports, has been struggling to boost non-hydrocarbon sectors including agriculture.
"Algeria's population has reached 35 million. So, demand for food is growing. Our goal is to rely on national production to balance demand and supply," Ould Hocine said.
"We want food sovereignty. We want to be sovereign regarding food. We can achieve that goal providing the authorities go ahead with the current policy."
He said the government has started in recent years spending $3 billion annually in a bid to boost its agricultural sector, providing good quality seeds and financial incentives for farmers.