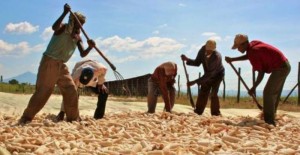 Infochange News & Features | April 2010
By Rahul Goswami
India's farmland is now international. In Africa, South America and South East Asia, companies that are Indian or Indian-owned have bought or leased hundreds of thousands of hectares to grow foodgrain, pulses and edible oil. Their acquisitions and activities are seen as backed by the central government in a tacit furthering of India's food security mission
The Union Ministry of Agriculture has asked farmers associations and agri-business organisations to examine proposals it has received from several countries to farm lands in those countries. Countries that have recently invited India, through the ministry, to lease land for farming include Egypt, Ethiopia, Mongolia, Senegal, Sudan, Trinidad and Tobago and Tunisia.
"This department is receiving a number of proposals from several countries offering opportunities for acquisition of land for farming by companies, for meeting their commercial objectives, as well as Indian farmers or their conglomeration for taking up smallholdings for agriculture," states a letter issued in late December 2009 by the joint secretary of the Department of Agriculture and Cooperation, Ministry of Agriculture. "The objective of the offer is to increase agricultural production in respective countries to reduce their dependence on import of foodgrain and export of surplus foodgrain to third countries."
From 2008, Indian and Indian-owned companies have been counted amongst a new global trend of buying agricultural land in African and South American countries for cultivation. India's participation has so far been concentrated in African countries, but South America is seen as a growing new destination for agri-investment, while integrated Indian oilseeds firms already have operations in South East Asia from plantation cultivation to processing of edible oils and export. Companies and agri-business groups that have leased or purchased land in Africa include Allied Chemicals, AVR Engineering (construction), BP Jewellery, Kankaria group (manufacturing and textiles), Karuturi Agro Products, Kommuri Agrotech (floriculture and horticulture), KSR Earthmovers, Nelvo International (minerals) and Surya Electrical (electrical products). According to one estimate, more than 80 Indian and Indian-owned companies have invested in large tracts of land and huge plantations in Africa, particularly in Ethiopia, Kenya, Madagascar, Mozambique and Senegal.
On January 5, 2010, an additional secretary in the agriculture ministry convened a meeting with officials from three ministries -- agriculture, external affairs and commerce -- and representatives of farmers associations and agri-industry to discuss the matter. The Consortium of Indian Farmers Associations (CIFA) has written to the Ministry of Agriculture suggesting that a visit by farmers groups to the countries inviting Indian investment should first be arranged so that conditions can be studied directly. Law and order is considered a major point of concern in several countries (there are separatist movements, rebel militias and volatile ruling regimes).
African media sources have pointed out that in Ethiopia, over 13 million people need food aid, yet its government is offering more than "3 million hectares of its most fertile land to rich countries and some of the world's most wealthy individuals to export food for their own populations". The buyers are international agri-businesses, investment banks, hedge funds, commodity traders, sovereign wealth funds, and individuals attracted by some of the world's cheapest land. While these investors are also looking for land in Sudan, Kenya, Nigeria, Tanzania, Malawi, Congo, Zambia, Uganda, Madagascar, Zimbabwe, Mali, Sierra Leone, Ghana and elsewhere, Ethiopia alone has approved 815 foreign-financed agricultural projects since 2007.
The Department of Agriculture and Cooperation has listed a "summary of major incentives being offered by various countries with regard to leasing of land":
Mongolia: "The Mongolian president emphasised the importance of development of the agricultural sector in Mongolia. He has particularly invited the farmers of Punjab to improve their agricultural sector. The produce can be exported to Chinese, Korean and Japanese markets. The Mongolian agriculture minister also proposed that Mongolia would like to lease agricultural land to Indian agriculturists/companies for commercial farming. An MoU could be framed to carry forward this arrangement." Sudan: "The new policy… explained by Dr Samson Kwaje, Minister of Agriculture and Forestry of the Government of Southern Sudan, involves leasing (for 8-32 years) a minimum 60,000 acres of land to foreign farmers at a lease fee of amount 25 US cents/year/acre. There is no upper limit. There would be no taxes or duties on inputs and no profit tax for at least four years. This could be an excellent factor in our own quest for food security." Trinidad and Tobago: "T&T has about 42% of its population whose ancestors had come from India since the mid-19th century. Indo-Trinidadians have made a mark in agriculture particularly in the sugarcane sector. Recently, a joint venture has been undertaken by T&T's National Foodcrop Farmers Association and China's Guangdong Agricultural Machinery Research Institute to help local farmers in processing their food crops for domestic and for export purposes. Under the programme, seven agricultural farms ranging in land sizes from 100 to 300 acres will be established in Trinidad using the finance, develop, operate and manage investment model." Egypt: "Deputy Chief of Mission in Cairo has informed that a list of projects for foreign investment in land cultivation and plantation was received by the Indian Mission from the General Authority for Investment and Free Zone (GAFI, a nodal Egyptian agency for approving foreign investment in Egypt)." Ethiopia: "The then Ambassador of Ethiopia has sought clarification from the RBI regarding opportunities for Indian investors for land-buying in Ethiopia. Ambassador was of the view that India has been leading the land-buying race with investments now standing at US$ 4.3 billion. However, the RBI has informed that as per its records, the total amount invested in Ethiopia from 1960 to the end of July 2009 by residents in India by way of overseas direct investments is only US$ 9.3 million towards equity. It is clear that there exists immense opportunities for leasing of land by Indian companies/farmers." Senegal: "In Senegal, land could be acquired under two different procedures namely (i) allocation of land for agricultural use and (ii) regularisation through lease (long lease). Acquisition of land through procedure (ii) would entail financial expenditure including payment of annual rents which could amount to around FCFA 20,000 per hectare (around US$ 40 per hectare per year). The minimal period for lease is 20 years extendable to 30 years and renewable to 50 years (long lease)." Tunisia: "The foreign investor can own up to 66% of the capital. The arable land is leased and cannot be capitalised. Agricultural investments do not require a preliminary authorisation. They must be declared with the Agency for the Promotion of Agricultural Investment. Two fiscal regimes can be adopted: a partially-exporting regime and wholly-exporting regime. Wholly-exporting entities are those that export at least 70% of their production, with the option to sell the remainder on the local market. Full and permanent exemption from customs duty, auxiliary customs duty, value-added tax and customs tax are also available to prospective investors. The Agency for the Promotion of Agricultural Investment in Tunisia has offered about 3,000 hectares of land for commercial farming and for setting up agro-processing projects in Tunisia."
Countries in South America are seen as offering land at comparable rates to that available in Africa, and a powerful grouping, the Solvent Extractors Association (SEA) of India, a body of over 800 edible oil-producing companies, is advocating government support for moving into countries like Argentina, Paraguay and Uruguay. The SEA wants government support because it sees China's success in buying agricultural land in Africa as having been helped for this reason. The SEA has also exploited India's large and growing edible oils bill as a reason. India's imports of vegetable oils during November 2008 to September 2009 jumped 47% to 7.9 million tonnes (mt) from 5.4 mt over the period. The SEA has formed a consortium of 18 of its members to take the proposal forward, and intends to form a 'special purpose vehicle' (an investing fund) to buy or lease land in South America -- 10,000 hectares each in Paraguay and Uruguay which is estimated will need a fund of US$ 35 million (Rs 160 crore) for Paraguay and US$ 50 million (Rs 229 crore) for Uruguay.
There are already Indian and Indian-owned companies farming in South America: the Sterling group has bought a 2,000-hectare olive farm in Argentina; Rajashree Sugars, Godavari Sugars and Renuka Sugars are considering acquisition of sugarcane estates and sugar and ethanol plants in Brazil; Bajaj Hindustan already has a subsidiary in Brazil; and Olam, an NRI-owned company, has bought 17,000 hectares of land in Argentina to grow peanuts.
In South East Asia, the edible oils company, KS Oils, in October 2009, acquired 53,000 acres in Kalimantan, Indonesia, for palm oil plantation. This is the third large acquisition of land by KS Oils, and the company's total land bank in Indonesia now stands at 138,000 acres. In a press release, the company stated that it would look for more land in the island and explained that the acquisition was part of its "long-term strategy to build an integrated backed supply chain of raw materials such as crude palm oil (CPO)". The company added that the October acquisition "will help the company become self-sufficient in the long term in its raw material requirements for palm oil. Substantial cost reduction, enhanced quality of inputs and control over the raw material supply chain will help the company build predictability in its business model, and also meet the increased demand for palm oil from consumers in India". The total development cost of the project is reported to be Rs 380 crore, to be funded by KS Oils' wholly-owned subsidiary, KS Natural Resources (KSNR), which is registered in Singapore. The crude palm oil from Kalimantan is to serve as raw material for the company's refinery in eastern India.
In the countries in which they farm, how are the Indian companies viewed, as development partners (the Chinese approach) or as exploiters of land and labour? Reports by local media provide an answer. Indian steel producer Varun International has been running an agri-business in Madagascar since 2008 to grow rice, corn and pulses. Varun's holdings are 232,000 hectares, according to the French language newspaper, Le Courrier International. "Varun talks about a 'win-win' contract. The Indian company leases land to the peasants, they are compensated with 30% of the paddy rice crop (unhusked) produced, after selling to Varun 70% of the produce. But the increased income of farmers in Madagascar as claimed by Varun is challenged," the newspaper has reported. Le Courrier states that a collective "committed to defending Madagascar from agri-business projects brought by large foreign investors" has investigated Varun's methods. The agri-business investor first encouraged the formation of farmers associations, which then gave up their lands on lease for 50 years. These associations then signed contracts in English with Varun after negotiations for the land that were rushed through in 15 days, and the farmers are bound by "a strict confidentiality clause". Le Courrier said the company's announcements of job-creation, new housing and public infrastructure have not been fulfilled. Moreover, the Madagascar collective charges Varun with adhering to a crop yield of 10 tonnes of paddy per hectare per year, which, it says, is "illusory", but which is the basis for a 70% share of cultivated produce which, in effect, is "not even sufficient to meet the food needs of an average family of Madagascar".
In Ethiopia, the government of former Marxist rebels that had once promised 'land to the tiller' has set aside more than 2.5 million hectares for agri-business. Global investors are lured with 40-year leases and tax holidays by a regime desperate for foreign currency. The Ethiopian Review, a current affairs magazine, has reported that "Indian companies have committed US$ 4.2 billion" to agri-investment in Ethiopia (the figure matches the contested number in the summary issued by the Ministry of Agriculture). Karuturi Agro Products farms 12,000 hectares in Ethiopia and grows corn on smallholder land which once supported teff, a local foodgrain. "Hundreds of Ethiopian workers, overseen by Indian supervisors, were bent over rows of corn stalks, cutting weeds tangled around them with small blades," reported The Ethiopian Review. "Many of the workers were children. The day rate: 8 birr, about 70 cents. Ethiopians cannot own land, instead they hold 'use certificates' for their tiny plots, making it difficult to get loans, or to sell or increase holdings. A worker said the company had refused to sign a wage contract and had failed to deliver promised water and power to nearby villages. Supervisors treat them cruelly, he said, and most workers were just biding time until they could go work for a Chinese construction company rumoured to pay US$ 2-4 a day." The Review said that India dominates foreign direct investment in the agricultural sector with investment in place of US$ 2.1 billion, followed by the EU (US$ 1.44 billion), the USA (US$ 542 million), Israel (US$ 528 million) and Saudi Arabia (US$ 172 million).
The international rush to farm Ethiopian land has prompted media attention worldwide on what is now called the '21st century land grab'. In an investigation published on March 7, 2010, by the British weekly newspaper, The Observer, conditions in a region called Oromia are described. "Oromia is one of the centres of the African land rush," said the Observer report. "Haile Hirpa, president of the Oromia studies association, said last week in a letter of protest to UN Secretary General Ban Ki-Moon that India had acquired 1 million hectares, Djibouti 10,000 hectares, Saudi Arabia 100,000 hectares, and that Egyptian, South Korean, Chinese, Nigerian and other Arab investors were all active in the state."
The statistic that the new land investors in Africa like to use is that the continent has 807 million hectares of cultivable land, of which just 197 million hectares are currently being cultivated. Michael Taylor, a policy specialist at the International Land Coalition, explained: "If land in Africa hasn't been planted, it's probably for a reason. Maybe it's used to graze livestock or deliberately left fallow to prevent nutrient depletion and erosion. Anybody who has seen these areas identified as 'unused' understands that there is no land in Ethiopia that has no owners and users."
What has driven the Indian interest and action in acquiring land in Africa, South America and South East Asia? The world food price spike of 2008 is an important reason, particularly the soaring cost of foodgrain and edible oil. When that happened, several food-exporting nations, in an effort to prevent food price hikes and public unrest at home, imposed bans on food exports. These bans took large amounts of grain and edible oil off the global market, worsening the food insecurity of food-importing nations dependent on such staples and also damaging the business models of agri-business companies and intermediaries that are active in agri-commodities trading. Today, while prices are seen to have stabilised (albeit at higher levels), food costs are still high and commodities markets remain unpredictable.
Developing countries also face other factors such as topsoil loss, water shortages, new crop diseases and pests brought on by climate change. That is why, in order to avoid the high costs, supply shortages and general volatility that plagues global food imports, countries and their agri-business proxies are side-stepping world food markets and instead seeking land overseas to use for agriculture. Crops harvested on this land will be sent home for consumption, or processed and re-exported. In either cycle, local exploitation of communities and natural resources is the externalised cost.
(Rahul Goswami is an independent journalist based in Goa)