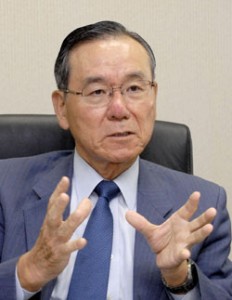 Japan International Cooperation Agency | press release | 17 March 2010
JICA is building a new development model to encourage increased agricultural production in Africa, both to help prevent another global food crisis and to deter a land grab by foreign enterprises across the continent, according to Senior Vice President Kenzo Oshima.
He was scheduled to deliver the opening address Wednesday (March 17) at a symposium at the United Nations University in Tokyo which was examining a bold project to develop the extensive savannah lands in the southern African state of Mozambique.
Brazil's Cerrado region turned out to be a great agricultural region after a decade of JICA project
JICA, Mozambique and Brazil signed a tripartite agreement last year to launch the project which hopes to parallel the results of a scheme in the 1970s which turned the South American country's own savannah or cerrados into an agricultural breadbasket.
In his prepared opening remarks for the seminar Oshima called that project in which JICA played a significant role, "one of the most successful stories in international cooperation that Japan has been involved in."
He noted that the world had undergone a severe food crisis in 2008 and now foreign interests were purchasing huge tracts of land in African countries to try to ensure their own needs.
However, this could also weaken regional food security, he said, in a development some critics were now terming the "new colonialism."
JICA was working on 'a new development model' including the Mozambique project which would help reduce overall poverty in developing countries by enhancing the agricultural productivity of small farmers and at the same time stimulating wider regional growth with related programs such as establishing agricultural processing systems.
In relation to the Mozambique project, he said there were three main factors involved: Mozambique's strong commitment to its success, Brazil's experience in developing its own savannah grasslands and Japan's decades-long experience and knowledge in participating in agricultural development.
In a recent interview, Mozambique Agriculture Minister Soares Nhaca , another speaker at the seminar, told JICA that "Currently we are cultivating 4.5 hectares of land, but 36 million hectares is possible. If we can successfully exploit all of our agricultural potential we can become a breadbasket not only for southern Africa but many other parts of the world."
As many as 80% of the country's 20 million population work in agriculture and though Mozambique is considered by donors as a country rich in potential it is still ranked 172 out of 182 nations on the 2009 UN Human Development Index, a measure of a country's general standard of living, literacy, life expectancy and education.
Joint Study Team in Mozambique
Starting in the 1970s Japanese experts and financial assistance helped transform Brazil's cerrados' or closed land into a farming bonanza growing huge harvests of soybeans, corn, rice, cassava and sugar. It was hailed subsequently as 'one of the great achievements of agricultural science in the 20th century' and the idea is to replicate its success in Mozambique.
Oshima said in his prepared remarks that a preparatory survey had already been completed and the results were now being studied before the next phase.
In addition to the agricultural project, JICA is also working on other related programs in Mozambique including improving the infrastructure such as roads and ports in the savannah region which should help ensure the success of the farming scheme.