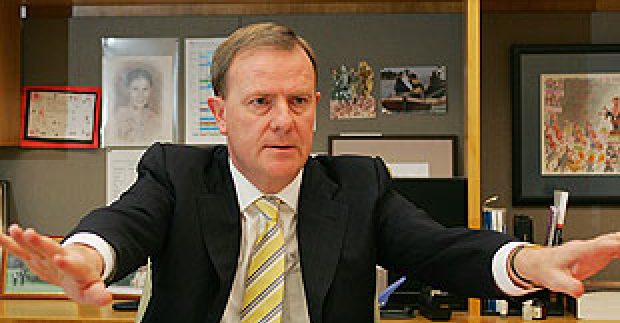 The Phnom Penh Post | 21 January 2010
by Steve Finch
Peter Costello, the former treasurer of Australia, revealed Wednesday he was working with an investment fund that planned to inject US$600 million into Cambodia's agricultural sector.
Speaking to the Post at the Indochina Gateway Capital Ltd office in Phnom Penh, Costello said he had met with high-ranking trade and investment officials in the government, who had shown strong interest, as preparation for setting up the project.
"We're looking at $600 million. It's a very large-scale investment," he said, adding that planning had been in progress for over a year.
Costello is working in a financial advisory role for the fund as managing director of Australia-based BKK Partners, a position he started in November almost two years after finishing more than 11 years as Australia's finance minister.
The fund would focus on rice, bananas and sugar, he said, bringing in major multinational agro-technology firms and investors in a bid to add value to the Kingdom's farming sector.
He declined to identify the firms involved.
Costello talked of introducing laser technology for leveling fields and GPS for irrigation.
"That technology, if it were brought into a country like Cambodia, would lift productivity enormously," he said, adding that the Kingdom would also benefit from technology transfer.
The BKK Web site said as of Wednesday that the venture also plans to tap into teak and palm oil in Cambodia.
Indochina Gateway Chairman Alastair Walton, also speaking on Wednesday, said the projects would cover a vast area, about 100,000 hectares, and added that joint-venture partners were currently looking at possible sites.
"It's progressing very well, and we hope it will come to fruition in the foreseeable future," he said.
The financial scale of the project would be unmatched in Cambodia. No investment fund has ever looked at the Kingdom for such an endeavour, and the proposed investment would be slightly greater than all of the total approved investment for the country in 2009 – domestic and foreign combined – in what was a record year for the sector.
In 2008, the government approved just $106 million for agriculture.
The more than fivefold increase in investment last year is a sign that foreign companies are increasingly eyeing the Kingdom's farming sector – of the total approved investment in 2009, some 92 percent came from overseas.
At the same time, Cambodia attracted increasingly large agricultural ventures. In December, the American multinational firm Dupont announced its first foray into the Kingdom with the release of three varieties of hybrid corn seeds.
"I think agriculture is going to come back into its own as an investment in the decades which lie ahead, and, of course, it's a great opportunity for Cambodia," Costello said. "Countries that have a natural advantage in agriculture should make the most of it."
With good soil, water supply and land availability, Cambodia is well-positioned as a destination for foreign agricultural firms. Opportunities for new arable land have diminished in recent years as demand for food rises with the increase in the world's population, he said.
Costello, who in 2008 was appointed to the World Bank's new Independent Advisory Board, which provides advice on anticorruption measures, acknowledged that Cambodia remains a country tainted by a reputation for graft.
"If you were to talk to international investors about investing in Cambodia, one of the issues that they will always raise would be the risk of being tainted by corruption," he said. "This is a setback for attracting investment."
In addition to the investment, Walton said Indochina Gateway would set up a foundation that would take 5 percent of cash flows from the venture to spend on rural social projects including education.