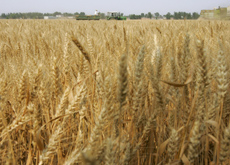 Sudan Vision | Monday, January 18 2010
Al-Eqtisadia
Foras International Investment Co., the investment arm of the Islamic Chamber of Commerce and Industry has started to put its objective of realizing food security in the Islamic countries into action by launching its first project of the integrated agricultural food basket in Sudan.
The executive chairman of Foras International Investment Co., the Assistant Secretary General of the projects in the Islamic Chamber of Commerce and Industry, Dr. Hatim bin Jamil Mukhtar, told Al-Eqtisadia that the company has started its first enormous projects in Sudan by launching Al-Faihaa integrated agricultural project in Sennar State with a capital of more than 750 million riyals (U$ 200 million).
Mukhtar said that it is the biggest, seven year, integrated project for the agricultural production in East Africa and enjoys the support of a number of shareholders and banks in Sudan and Arab World led by Islamic Development Bank.
The project extends over an area of 300 thousand feddans in Sennar State which witnessed full stability in the recent years and famous for its enormous agricultural potentials.
It's to be noted that Sudan has witnessed growing economic development together with improvement in the business climate in the last ten years, the issue that contributed to increase the volume of the foreign and local investments in agriculture using the latest technology.
Mukhtar revealed that this huge project will contribute to boost the economic and agricultural development in Sudan and Islamic countries pointing out that Foras aims at establishing projects with an economic return for the operation of the manpower besides supporting the primary market and realizing prosperity of the Islamic countries.
The executive chairman of Foras indicated that his company is going to introduce the latest agricultural system in this project besides the application of the integrated technology packages suitable for local investment environment such as the selection of modern irrigation systems, the selection of appropriate agricultural mechanization and many other modern programs.
It's worth mentioning here that the chairman of the Islamic Chamber of Commerce and Industry, Sheikh Salih Kamil has launched officially yesterday Foras Co. branch in Sudan one of the regional companies of Foras international investment Co.
Kamil thanked the Sudanese government, which facilitated the opening of the Foras Co. office in Sudan.
The official opening ceremonies was attended by the General Secretary of Higher Investment Council in Sudan, Ahmed Ahawor, Kuwait Ambassador, Saudi Charge D'affair and a number of businessmen.