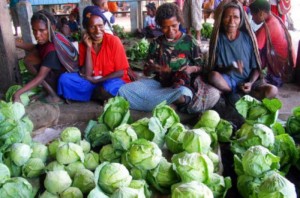 Jakarta Globe | 17 January 2010
Arti Ekawati & Muhamad Al Azhari
The government has finalized plans and is ready to move ahead with the country's first integrated food production zone in Merauke, Papua, a minister told the Jakarta Globe on Sunday.
"Drafting of the regulation has been finished and it is ready to be signed by the president," Agriculture Minister Suswono said.
The food estates, as they are known, are designed to stimulate large-scale investment in the agriculture sector and beef up food security. The developers will be prevented from exporting any of their produce until the nation's food needs have been met.
If the pilot project, which aims to attract domestic and international investors with a series of tax breaks, is successful, the government hopes to establish similar zones elsewhere in eastern Indonesia.
The completion of the food estate regulation was one of the objectives of the government's program for its first 100 days.
According to the ministry, the pilot project will see 1.6 million hectares of land in Merauke transformed into an integrated farming, plantation and livestock zone, where companies will grow, process and package their products in one place.
The government plans to give investors financial incentives such as tax breaks and reductions in customs and excise duty, according to the ministry.
The government will also look to streamline the land acquisition process and facilitate immigration for foreign workers.
However, Suswono stressed that "the government will put Indonesian investors in the first priority before inviting foreign investor to invest in Merauke." Overseas investors will have to work with a local partner and will be restricted to a maximum 49 percent ownership of any joint venture.
In addition to farming, the project will support a wide range of agricultural businesses, including, post-harvesting industries such as sorting and grading, packing, storage and processing as well as agri-tourism.
One million hectares of lands will be available to produce food crops such as rice, soy bean and corn. The rest will be split between plantations, fisheries and livestock. Investors will have to purchase a minimum of 1,000 hectares of land each.
But the development, under which many residents will be forced to sell their land, has met opposition from locals and non-government organizations, who have warned of social and environmental problems.
The Indonesian Farmers Union (SPI) has said that the food estate regulation will lead to a "land grab" by big businesses at the expense of locals.
"This will eventually lead [the country] to losing sovereignty in our food [production]," the union said. "Food estates could also lead to feudalism because the role of the indigenous farmers will be just to provide labor to the capital owners."
Bungaran Saragih, a former agriculture minister, expressed similar concerns. "There is potential for social conflict between the original residents and the newcomers," he told the Jakarta Globe last month.
SPI said on its Web site that a handful of local investors have showed an interest in the Merauke project so far: PT Bangun Tjipta, Medco Group, PT Comexindo Internasional, PT Digul Agro Lestari, PT Buana Agro Tama and PT Wolo Agro Makmur.
The union also said executives from Binladin Group, a Saudi Arabian conglomerate, have visited Merauke to examine the project's potential.