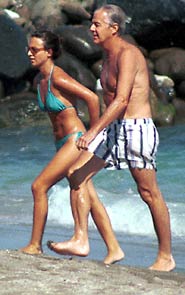 The Sunday Times | December 27, 2009
Kate Walsh
A VETERAN American hedge-fund manager has launched a $100m fund to invest in American farmland as fears of food inflation grow.
Dixon Boardman, who is married to Arianna von Hohenlohe, a German princess 30 years his junior, is chief executive of Optima, a New York fund-of-funds business with $6 billion under management.
In its first year, the fund, called the American Farmland Company, will buy up to 15 farms, totalling 10,000 acres. The average size of the farms will be 500 acres.
Boardman, who has been in hedge-fund industry for 20 years, believes that economic recovery, continued population growth and increased incomes, especially in emerging markets, will create rising demand for food.
The use of alternative energy resources such as biodiesel and ethanol is expected to create additional demand, as is the diminishing availability of arable land, notably in China.
"Farmland as an asset class has been historically overlooked by many investors," said Boardman, "but US farmland has generated returns exceeding 15% per annum in the past five years.
"Low debt in the farming sector has also contributed to its outperformance during the credit crisis," he added.
The sector produced a return of 31.7% in America between July 2007 and June 2009, according to the National Farmland Index. Over the same period, the S&P 500 index declined 35.9%.
Only a small portion of American farmland, which is worth about $2 trillion, is owned by institutional investors. The entry of professional investors into this industry could lead to huge windfalls for American farmers.
Boardman is confident that it will not be difficult to get the farmers to sell up. "Farming is much more a commercial choice than a lifestyle choice in America. A lot of these farmers are getting old and the next generation is not always interested in taking over the farms."
The American Farmland Company, which has received funding from a clutch of hedge-fund investors, will run the farms. It is likely to invest in arable land in Arizona and vineyards in under-developed areas of California.