Nigeria: Group calls for probe of Kwara's N70 billion rice project
Published: 25 Mar 2012
This Day | 25 March 2012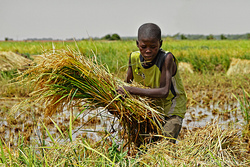 Under the deal, the Kwara state government will provide Spain's Vasolar Consortium with 500,000 hectares of arable land along the settlements of the Niger River.
A Lagos based non- governmental organisation, Lawyers Unite Against Corruption in Nigeria at the weekend charged the EFCC and ICPC to probe the alleged planned N70billion investment deal on rice production and processing between the governor Abdulfatah Ahmed-led administration of Kwara State, and Vasolar Consortium Company of Spain.
The organisation made the call in a statement made available and signed by its chairman, vice-chairman, secretary, assistant secretary and publicity secretary, barristers Badmos Adeniji, Deji Rowland, Kayode Otaru, Innocent Okohue and Samson Oyeniyi respectively. The group faulted the existence of the company, stressing that, "internet search using all the well known search engines [Google, Yahoo and Bing] showed that the only existence of this company in name is through this deal with the Kwara State government.
"This is a big surprise for a company planning to invest €339,805,820 [assuming an exchange rate of N206 per Euro] in four years".
"Other checks in the Spanish Chamber of Commerce show the company does not exist. If you can invest 339,805,820 Euros in a foreign country, you surely must have some form of local recognition in your country's Chamber of Commerce," added the statement.