Food crisis and the global land grab
farmlandgrab.org weekly | 14 Sep 2011
---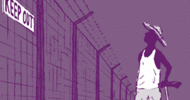 BrettonWoodsProject | 14 Sep 2011
New research accuses the World Bank Group's policies of facilitating land grabs in Africa and favouring the interests of financial markets over food security and environmental protection.
---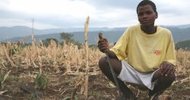 International Rivers | 14 Sep 2011
Land and water grabs spell disaster for rural people and rivers
---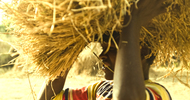 The Hindu | 14 Sep 2011
"We found little evidence that such large-scale acquisitions have helped to provide food and jobs to the local population. More than three quarters of the deals are yet to demonstrate improvements in agricultural output," says the chair of a UN high-level panel of experts on land tenure and international investment in agriculture
---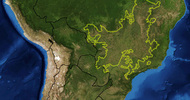 MarketWatch | 13 Sep 2011
Agrifirma, a private investment company backed by financier Lord Rothschild, transferred around half of its assets to a new joint venture with Brazilian private equity firm BRZ Investimentos.
---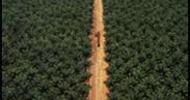 Times of India | 13 Sep 2011
The world's largest commodities trader Glencore International AG is evaluating a bid for KS Oils, a leading Indian edible oil firm that has recently been acquiring farmland in Indonesia
---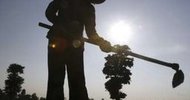 ABC News | 13 Sep 2011
It's become known as the global land grab. More and more wealthy countries are buying up agricultural land in the developing world in at attempt to hedge against high food prices.
---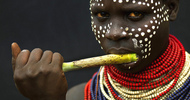 Bloomberg | 13 Sep 2011
Foreign investment is being sought to develop projects on 5 million hectares of land that has been identified for sugar production.
---
ALLVOICES | 13 Sep 2011
"The desire of foreign monopoly capitalists in the US to acquire lands in PH is an open book. It is not a best kept secret. The monopolists in the US also want 100 percent ownership of other profitable sectors in the Philippines including but not limited to mining, eco-tourism, energy, public utilities, mass media, oil and gas, health and education."
---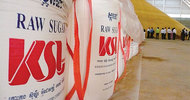 Khmerization | 13 Sep 2011
Major Thai producer among businesses facing land-grab allegations in Cambodia's lucrative sugar industry.
---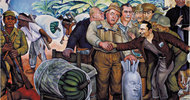 IPS | 12 Sep 2011
In Guatemala, land is fiercely disputed, especially by agribusiness interests keen on expanding export crops like sugar cane and African oil palm.
---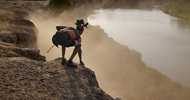 Oakland Institute | 12 Sep 2011
Oakland Institute report exposes how a controversial hydroelectric project in Ethiopia's Omo Valley is facilitating the take over of 350,000 ha of land for sugar cane and cotton plantations and resulting in state-sponsored human rights violations.
---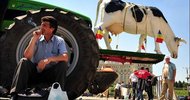 Business Review | 12 Sep 2011
"We are in negotiations with several foreign investment funds that are interested in buying thousands of hectares of Romanian farmland," says analyst with DTZ Echinox.
---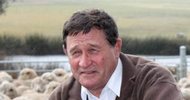 Beef Central | 12 Sep 2011
Shadow minister for agriculture and food security, John Cobb, said it was concerning that in the past three years there had been a 10-fold increase in foreign investment in ownership and control of agricultural supply lines.
---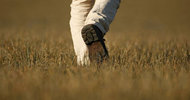 ABC | 12 Sep 2011
The National Farmers Federation says the figures that show Australian farm land to be about 90 per cent locally owned is a small part of the picture. It's just one of three studies, with the others looking into the value of farm production.
---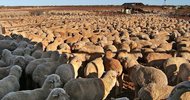 The Advertiser | 10 Sep 2011
New figures by the Australian Bureau of Statistics show more than 12 per cent of land used for agriculture in South Australia is owned by foreign interests.
---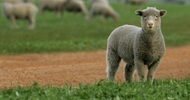 Australia Bureau of Statistics | 09 Sep 2011
According to figures released today by the Australian Bureau of Statistics, as at 31 December 2010, 89% of the nation's agricultural land was Australian owned.
---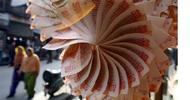 Economic Times | 09 Sep 2011
Indian companies are looking at agricultural outsourcing by opting for cheaper options in neighbouring countries so as to produce things at less cost, making this sector lucrative to the PE firms
---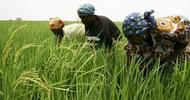 The Guardian | 09 Sep 2011
Tanzania's Coast Region residents have been advised to accept and work with investors in agriculture.
---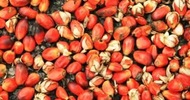 ProactiveInvestors | 09 Sep 2011
Feronia Inc. got into the palm oil business in September 2009 through the purchase of a 100,000 hectare plantation in the Democratic Republic of Congo from Unilever.
---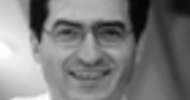 Business Standard | 09 Sep 2011
Speaking at the annual African Cup of Investment Management, Alex Pestana said China had invested in arable land in Kenya, Tanzania, Uganda and Mozambique.
---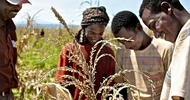 Frontline | 09 Sep 2011
AN extraordinary new process has been at work in the past few years: the aggressive entry of Indian corporations into the markets for agricultural land in Africa, writes Jayati Gosh
---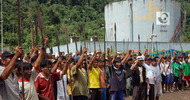 AlertNet | 08 Sep 2011
As large-scale land purchases for food production become commonplace, the FAO is finalising a set of guidelines to help improve land-tenure governance and encourage transparency in deals.
---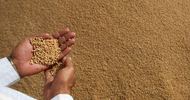 AltAssets | 08 Sep 2011
"As investors we always want to be on the correct side of global macro trends, and whatever China needs or is buying lots of, we want to own as investments."
---
New map gives public a global view of biofuel development | 08 Sep 2011
Assessing how biofuels affect forests and people's livelihoods and how its production can be more sustainable has been made easier following the recent release of an interactive map which provides a geographical overview of biofuel production, consumption and investment around the world.
---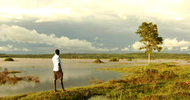 GRAIN | 07 Sep 2011
The people living on the lands now being targeted by US-owned Dominion Farms can learn a lot from the film Good Fortune, which provides a behind-the-scenes account of the struggle of a local community in Kenya to defend their lands from this company.
---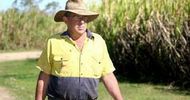 Daily Mercury | 07 Sep 2011
While foreign investment is nothing new in the Australian sugar industry, the rate at which foreign companies have been pouring money into the industry has caused some concern among canegrowers.
---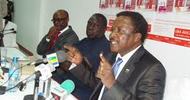 Udadisi | 06 Sep 2011
The debate on large scale land acquisition in Tanzania is far from over as there is a changing dynamic now as local investors team up in joint venture with foreign investors and we are made to believe that since we have one of our own in the investment venture our interests are taken care of.
---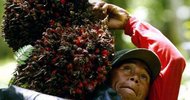 Reuters | 05 Sep 2011
African and South American palm oil players are flocking to join the Roundtable on Sustainable Palm Oil, highlighting a growing trend of the industry's rapid expansion outside main producing region Southeast Asia
---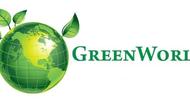 GreenWorld (BVI) | 04 Sep 2011
While many foreign farmland investments in Africa are predatory, there should be a basic set of standards that governs foreign farmland investments on the continent, according to GreenWorld (BVI)
---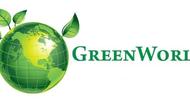 GreenWorld (BVI) | 03 Sep 2011
China looks to buy farmland in Ukraine
---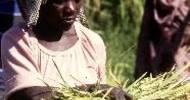 Tanzania Media Forum | 02 Sep 2011
The Tanzania government has been advised to draft laws to curb acquisition by foreigners of extensive tracts of the country's fertile agricultural land as foreign direct investment would be a disaster in years to come.
---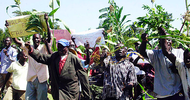 Nairobi Star | 30 Aug 2011
Calvin Burgess recorded statement to police over threats on his life after he was chased by angry villagers who were protesting eviction from their farms which the company insists belongs to them.
---
In These Times | 22 Aug 2011
Fear of unrest and hunger for profit are sparking massive acquisitions of farmland.
---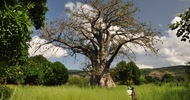 PRNewswire | 22 Aug 2011
"AIMI's investment in Farm Lands of Guinea Inc. gives the company and its shareholders exposure to the exciting growth prospects presented by this large-scale agricultural opportunity in West Africa," said Mark Pajak, Acting Chairman of AIM Investments.
---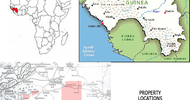 StockmarketWire.com | 09 Aug 2011
AIM Investments is investing $1m into Farm Lands of Guinea which, in turn, will invest $500,000 into AIM. FLG has prepaid 99 year leases on over 100,000 hectares of arable land in Guinea.
---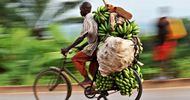 Al Majalla | 04 Aug 2010
To speak only of the 'threats and potential opportunities' that these investments highlight leaves underexposed the grave risks to human rights that they pose, writes Dr. Margot Salomon, from the London School of Economics
---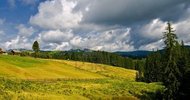 EurActiv | 12 sep 2011
L'année prochaine, l'Ukraine lèvera un moratoire sur la vente de terres agricoles, une action perçue comme un pas important dans l'ouverture du pays à des acheteurs étrangers potentiels.
---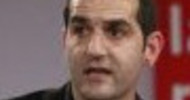 Fenêtre sur l'Europe | 12 sep 2011
Le Parti socialiste français promeut une stratégie de développement qui implique que soient empêchés les accaparements de terres mises en œuvres par des multinationales, voire par d'autres États, qui privent les populations de leur souveraineté agricole.
---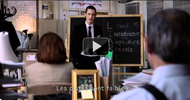 Oxfam | 12 sep 2011
Depuis quelques mois, Oxfam mène une enquête sur l'accaparement des terres et sur la façon dont cette pratique a fait sombrer des milliers de personnes encore plus profondément dans la pauvreté. Vidéo parodie.
---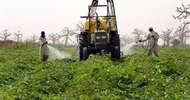 Jeune Afrique | 06 sep 2011
En proposant d'injecter 2,5 milliards de dollars (1,7 milliard d'euros) dans le secteur agricole du continent noir, les géants indiens de l'agroalimentaire s'apprêtent à battre le record des deals agricoles signés en Afrique au cours des cinquante dernières années.
---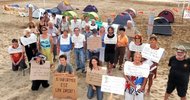 Le Midi Libre | 04 sep 2011
Tandis qu'il dénonce "l'accaparement des terres au Liberia et ailleurs" ainsi que le déplacement des populations, le collectif Nopalme s'inquiète des véritables ambitions du leader mondial malaisien de production d'huile de palme, à Port-la-Nouvelle
---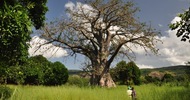 PR Newswire | 22 aout 2011
Farm Lands of Guinea, Inc. qui contrôle plus de 100 000 hectares de terres agricoles ouest-africaines sous-utilisées, a finalisé un placement stratégique d'un million de dollars US de AIM Investments PLC grâce à un placement privé
---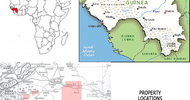 StockmarketWire.com | 09 aout 2011
AIM Investments investit 1 million de dollars US dans Farm Lands of Guinea qui de son côté va investir 500 000 dollars dans AIM.
---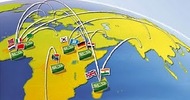 Afrohistorama | 26 avr 2011
Cette histoire de Terres africaines vendues ne me laisse pas de répit depuis au moins trois ans, écrit E. Mampouya
---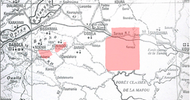 PR Newswire | 04 mar 2011
Farm Lands of Guinea Limited qui, à travers sa filiale Land & Resources (Guinea) SA dont elle détient 90 %, contrôle plus de 100 000 hectares de terres agricoles sous-utilisées en Afrique de l'Ouest, a annoncé aujourd'hui avoir réalisé une fusion inverse et un investissement avec Kryptic Entertainment Inc.
---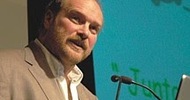 La Arena | 14 sep 2011
El pedido de la presidenta Cristina Fernández, a pocos días de haber ganado con contundencia las elecciones primarias del 14 de agosto, de que se trate la ley sobre propiedad de la tierra, aún no encuentra eco en el Congreso.
---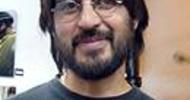 Página 12 | 14 sep 2011
Darío Aranda reflexiona sobre el comportamiento de los grandes medios de comunicación y los periodistas acerca de la invisibilización de la opinión de campesinos e indígenas.
---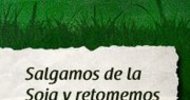 ALAINET | 09 sep 2011
Acerca del proyecto de ley sobre "extranjerización de tierras" presentado por el Poder Ejecutivo Nacional: Grupo de Reflexión Rural
---
Oxfam | 09 sep 2011
Oxfam presenta hoy en la web una parodia de la película de culto de Alec Baldwin Glengarry Glen Ross (El precio de la ambición)
---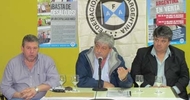 Rafaela.com | 08 sep 2011
El presidente de la Federación Agraria arrojó ese dato en conferencia de prensa, haciendo mención a la "Ley de Extranjerización". Agregó que "merece una discusión profunda en el Congreso".
---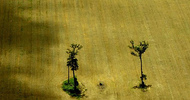 IG | 08 Sep 2011
Para Incra, esses investimentos podem não apresentar melhora significativa no desenvolvimento econômico do meio rural do Brasil
---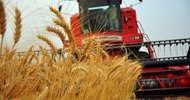 IG | 08 Sep 2011
Governo e entidades mundiais debatem regras para compra de terrenos em cenário de crescente falta de comida para todos
---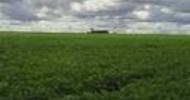 IG | 08 Sep 2011
Câmara dos Deputados debate assunto para chegar a um projeto de lei que contemple todos os envolvidos no processo
---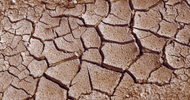 Il Fatto Alimentare | 08 Sep 2011
Il Corno d'Africa è afflitto dalla più grave tragedia umanitaria che la sua storia ricordi. Siccità e fame, 12 milioni di persone senza cibo né acqua. Ma il "neocolonialismo agricolo" procede indisturbato.
---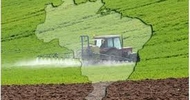 24 Horas News | 21 Aug 2011
Oito anos após se instalar em Mato Grosso, o grupo argentino El Tejar se transformou no maior produtor de soja em terras brasileiras.
---
farmlandgrab.org
weekly provides a list of the latest postings to farmlandgrab.org by email each week
farmlandgrab.org
is an open-publishing website, initiated by GRAIN, tracking today's global land grab for food production and people's movements against it
to unsubscribe from the list, click
this link
to visit or post materials to the website, click
this link