Food crisis and the global land grab
farmlandgrab.org weekly | 26 Dec 2012
---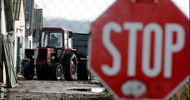 UPI | 21 Dec 2012
Hungary this week moved to ban foreign ownership of agricultural land under its new constitution amid fears over the future of family farming in the country.
---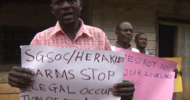 IPS | 20 Dec 2012
Nasako Besingi, director of environmental NGO Struggle to Economize the Future, says protests against a controversial palm oil plantation in the Korup National Park, southwest Cameroon will continue despite arrests and intimidation.
---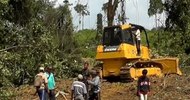 EIA | 20 Dec 2012
he Roundtable on Sustainable Palm Oil (RSPO) has upheld a complaint lodged by the London-based Environmental Investigation Agency (EIA) against a rogue palm oil company and has ordered it to immediately stop clearing customary forests in Indonesian Borneo.
---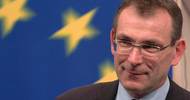 This is Africa | 20 Dec 2012
"Large scale agriculture investment requires a lot of transparency and legal certainty, and that is what is lacking most of the time," he says. "We have seen that large-scale investment coming - I'm not saying that it is wrong, but it should be very clearly covered by countries' legislation.
---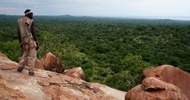 Tanzania Daily News | 20 Dec 2012
From next month (January 2013), Tanzania will start restricting the size of land that single large-scale foreign and local investors can "lease" for agricultural use.
---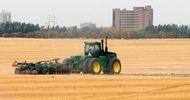 Star Phoenix | 20 Dec 2012
The Farm Land Security Board of the Canadian province of Saskatchewan has now hired an investigator with some "special skills" and experience to look into illegal farm sales to foreign investors.
---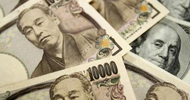 Asian Investor | 20 Dec 2012
The fund house aims to capitalise on Japanese pension plans' growing interest in new investment types, including Asian fixed income and certain alternatives like farmland
---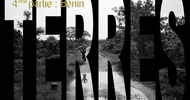 CCFD | 20 dec 2012
Ce document est le résultat d'une étude réalisée au Bénin, et plus particulièrement dans dans la commune de Djidja, par Synergie Paysanne en partenariat avec le CCFD-Terre Solidaire.
---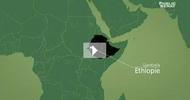 Nouvel Obs | 20 dec 2012
Documentaire sur Public Sénat
---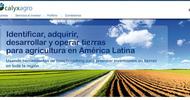 Infocampo | 21 dic 2012
La companía fue fundada en 2007 con el objeto de canalizar fondos para la compra y desarrollo de campos en la Argentina, Brasil, Paraguay y Uruguay, la producción agropecuaria y la comercialización de sus productos.
---
farmlandgrab.org
weekly provides a list of the latest postings to farmlandgrab.org by email each week
farmlandgrab.org
is an open-publishing website, initiated by GRAIN, tracking today's global land grab for food production and people's movements against it
to unsubscribe from the list, click
this link
to visit or post materials to the website, click
this link