Food crisis and the global land grab
farmlandgrab.org weekly | 12 Oct 2011
---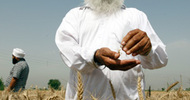 Business Standard | 12 Oct 2011
Karuturi Global is looking at outsourcing 20,000 hectares of farm land in the African nation to Indian farmers on a revenue-sharing basis.
---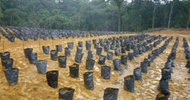 Awoko | 12 Oct 2011
Socfin Agricultural Company is embroiled in serious land lease agreement tussle that has the tendency to ignite conflict between foreign investors and locals.
---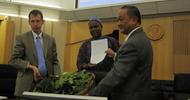 Real World Radio | 11 Oct 2011
Movimientos sociales llevaron llamamiento contra el acaparamiento de tierras a la FAO
---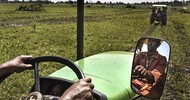 Outlook India | 11 Oct 2011
Obtaining millions of hectares for farming in Africa, Indian firms are playing predator.
---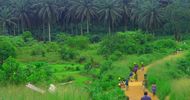 Green Scenery | 11 Oct 2011
Thirty peaceful protesters were arrested in Sahn Malen, Sierra Leone for blocking access to oil palm plantations owned by Socfin, which they accuse of grabbing their lands.
---
Al Jazeera | 11 Oct 2011
Farmers worried about damage that comes with the excessive use of chemicals in large-scale agriculture.
---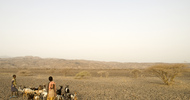 Ethiopian Review | 11 Oct 2011
New book explains the reasons behind the land grab phenomenon and why so many Ethiopians are not only alarmed but also adamantly opposed to it.
---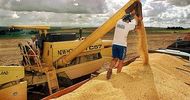 beyondbrics | 10 Oct 2011
Changes to land laws are under discussion in Brazil, this time based on reciprocity. One result is that Chinese investors would be banned from buying any land in Brazil, as China does not permit private ownership of land.
---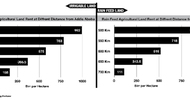 | 09 Oct 2011
The MoA has identified a total of 2.6 million ha of land fit for cultivation of cotton, which is equivalent to what Pakistan, the fourth largest cotton producer in the world, uses for the same purpose.
---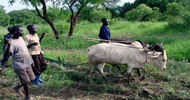 Black Star News | 09 Oct 2011
A massive land grab is unfolding on the African continent, mired in secrecy and spearheaded by hedge funds, financial speculators and foreign companies. South Sudan has become one of the latest frontiers for these investors.
---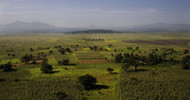 Addis Fortune | 09 Oct 2011
Karuturi Global Ltd. is to construct embankments around 25,000ha of farmland, half the size of Addis Abeba, in Gambela, at a cost of US$15 million, following its report of a loss of US$15 million due to flooding.
---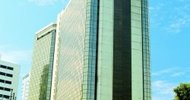 Heritage | 07 Oct 2011
The Environmental Protection Agency has imposed US$50,000 fine on the Sime Darby Plantation Inc. with immediate effect as a result of non-compliance with the terms and conditions of a permit.
---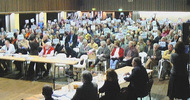 ABC | 07 Oct 2011
Wingecarribee Shire Council has asked the state and federal governments to apply greater scrutiny to the acquisition of Australian land by foreign governments by setting up a registry of foreign land ownership.
---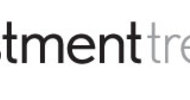 ITN | 07 Oct 2011
While certain provisions in contracts can contain sensitive commercial information that may require a level of confidentiality, it does not justify keeping all information about large-scale agricultural projects outside the public domain.
---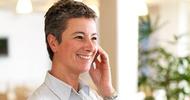 Euromoney | 06 Oct 2011
Asset owners and managers are signing up to a series of principles on how they invest in agricultural land. Will this mollify critics of the land grab? Nick Lord reports.
---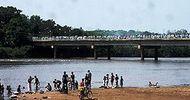 Bloomberg | 06 Oct 2011
The flooding that breached specially built barriers near Karuturi's plantations couldn't have been predicted, Karuturi claims.
---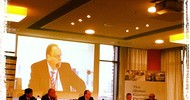 Economic Insights | 06 Oct 2011
Panel of five men at the at the Global Economic Symposium in Kiel, Germany discusses the problem of "land grabbing".
---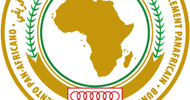 PANA | 06 Oct 2011
The French Development Agency and the UK-based Emergent Asset Management have been named as the leading investors in massive land deals involving African leaders
---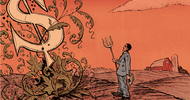 Bloomberg | 06 Oct 2011
Farmland investments may return 8 percent to 12 percent annually as global food demand increases, said the largest US pensions manager for teachers and academic researchers with $469 billion of assets.
---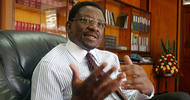 UNECA | 05 Oct 2011
Participants at a 2-day High-Level Forum on Foreign Direct Investments in Land in Africa have resolved to promote land-based investment models that increase agricultural productivity and maximize opportunities for Africa's farmers.
---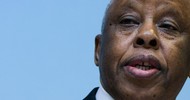 PANA | 05 Oct 2011
African experts gathered in Nairobi, Kenya, are discussing a common position to outlaw land grabbing by foreigners, the latest threat to food security in the continent.
---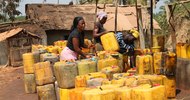 Green Scenery | 03 Oct 2011
Since Monday evening more than a hundred land owners are blocking the Socfin operation area
---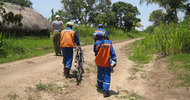 Tanzania Daily News | 03 Oct 2011
The EU lured many multinational energy companies such as SBF to invest in renewable energies in developing countries such Tanzania where almost all projects are on the verge of collapse or shut down.
---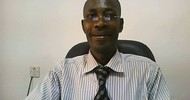 SNS Impact Investing | 29 Sep 2011
SNS Impact Investing interviewed Dr. George Owusu from the Institute of Statistical, Social and Economic Research (ISSER) at the University of Ghana in Accra.
---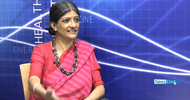 Newsclick | 12 Sep 2011
Indian companies acquire land in Africa at throw away prices to ensure India's food security. Prof Jayati Ghosh analyses the issue and offers alternative solutions.
---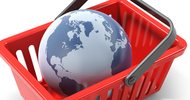 Actu-Environnement | 10 oct 2011
Quelque 330 Mha de terres utilisés en 2004 pour satisfaire les besoins européens se situent hors de son territoire, soit 58 % des terres consommées par les Européens.
---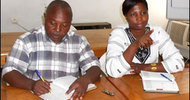 Digital Congo | 10 oct 2011
« C'est comme ça que les politiciens croient qu'ils vont amener les investisseurs. Mais pour nous, les investisseurs vont créer le chômage parce qu'ils viendront prendre de terre pour nous chasser de notre métier », a poursuivi Mme Espérance Nzuzi.
---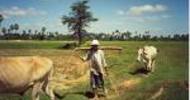 PANA | 08 oct 2011
Les communautés villageoises du département de Boghé ont dénoncé, samedi au cours d'une rencontre avec la presse, l'accaparement de leurs terres au profit d'une entreprise saoudienne, la Société Tabouk El Eziraya, affiliée au groupe Errajihi.
---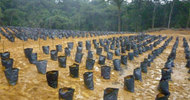 Jeune Afrique | 07 oct 2011
Soumis à des contraintes d'espace, les groupes asiatiques multiplient les accords en Afrique. Si le pari est parfois risqué, les perspectives de la demande mondiale en huile de palme leur laissent entrevoir un fort retour sur investissement.
---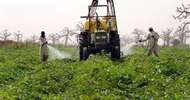 Jeune Afrique | 07 oct 2011
Milliardaires américains ou saoudiens, aristocrates portugais et britanniques, ex-ambassadeurs occidentaux… Derrière certains contrats signés en Afrique se cachent des personnalités du monde des affaires et, parfois, de la politique. Enquête sur ces nouveaux spéculateurs.
---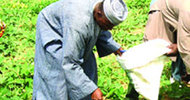 Senenews | 06 oct 2011
Si l'Etat ne prend aucune disposition face au bradage des terres au profit des investisseurs privés, les sénégalais ne pourront plus se nourrir de leurs terres. C'est l'alerte sonnée par les responsables du Cncr.
---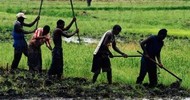 Le Griot | 06 oct 2011
Le gouvernement sénégalais vient d'octroyer 20 000 hectares de terre dans la localité de Fanaye à des investisseurs italiens pour y développer des biocarburants, ce qui a mécontenté le Conseil Régional des Coopération des Ruraux
---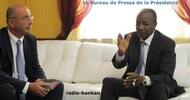 Aujourd'hui en Guinée | 24 jui 2011
L'entretien a porté sur la nécessité d'avoir des équipes de sensibilisation en région forestière afin d'amener les paysans à comprendre l'urgence d'acquisition de domaines qui impulseront le développement agricole.
---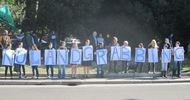 Radio Mundo Real | 11 oct 2011
Representantes de campesinos, indígenas, pastores y pescadores artesanales dieron un claro mensaje a los gobiernos: para enfrentar la crisis alimentaria y el constante aumento de precios se debe detener el acaparamiento de tierras.
---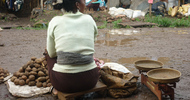 Kaos en la Red | 11 oct 2011
Más de 63 millones de hectáreas de tierras fértiles han sido vendidas en África a inversores extranjeros para producir alimentos que van al exterior. Mientras, la FAO ha requerido ayuda ante la hambruna que afecta a más de diez millones de africanos.
---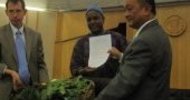 Radio Mundo Real | 11 oct 2011
Movimientos sociales llevaron llamamiento contra el acaparamiento de tierras a la FAO
---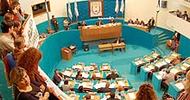 ADN | 11 oct 2011
Diversas organizaciones ambientalistas, políticas, sociales y gremiales advirtieron a los actuales legisladores y a los electos que los consideraran como "infames traidores" si avalan el acuerdo agroalimentario entre la provincia de Río Negro y una empresa estatal de China.
---
farmlandgrab.org
weekly provides a list of the latest postings to farmlandgrab.org by email each week
farmlandgrab.org
is an open-publishing website, initiated by GRAIN, tracking today's global land grab for food production and people's movements against it
to unsubscribe from the list, click
this link
to visit or post materials to the website, click
this link